China's Snub Of North Korea: Does It Matter?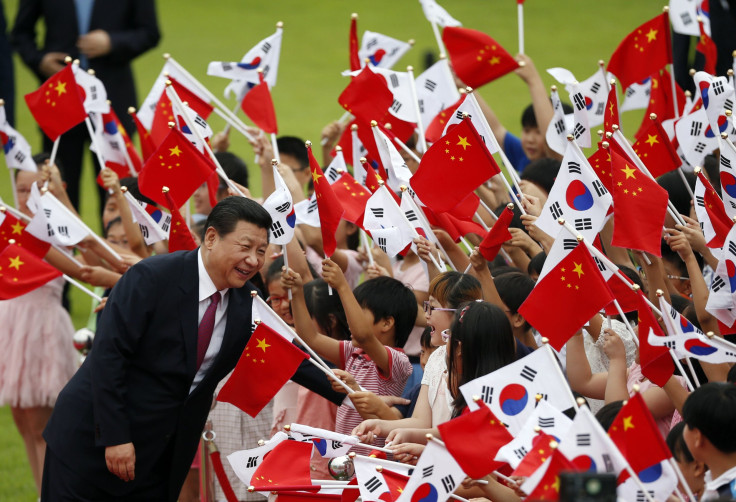 Chinese President Xi Jinping's current visit to South Korea has received almost as much attention for a country he's not going to: North Korea.
Xi's appearance in Seoul, where he met with his South Korean counterpart Park Geun-hye, marks the first time that a Chinese Communist leader has visited the South without first paying a visit to Pyongyang. This snub of North Korea -- once unthinkable in a relationship that Mao Zedong described as being akin to "lips and teeth" -- symbolizes more than just China's warming to South Korea. It also reflects Beijing's impatience with the regime of Kim Jong-un.
"The snub is a predictable result of North Korea's intransigence and unwillingness to play China's game," says Adam Cathcart, an expert on Sino-North Korean relations at Leeds University in England.
In the decades following the Korean War, when China assisted its Communist ally in the North in fighting Western forces, China's sole relationship with the Korean Peninsula was with the regime in Pyongyang. But 22 years after the two countries established diplomatic relations in 1992, trade between China and South Korea has grown to become 40 times larger than China's trade with the North. South Korean students study in China in great numbers, while the smaller country has attracted a large number of Chinese tourists. In Seoul this week, the two leaders have proposed extending currency trades, concluding free trade talks and negotiating bilateral sea boundaries by 2015.
Meanwhile, China's relationship with the Pyongyang regime has cooled over Beijing's frustration with North Korea's missile program. Since 2006, North Korea has conducted three nuclear tests despite widespread international condemnation -- and sanctions from Beijing. Since assuming China's presidency in 2013, Xi Jinping has yet to visit Pyongyang or invite Kim to Beijing, a departure from the frequent interactions between the Chinese government and Kim's father and predecessor, Kim Jong-il.
But China's tilt away from North Korea and its embrace of the South does not change the fundamental balance of interests in the region.
China remains uncomfortable with the presence of more than 40,000 U.S. troops inside South Korea, and fears that a North Korean collapse would trigger an enormous refugee crisis on the DMZ. This emphasis on stability means that China is more tolerant of a nuclear North Korea than either South Korea or the United States, a fact that has undermined previous six-party talks (also including Russia and Japan) to resolve the nuclear issue. Cathcart believes that short of a fourth Northern nuclear test, Beijing's relations with Seoul cannot transcend these fundamental differences.
"The visit itself is good theater, but it doesn't change anything," he said.
Then there's the status of Northeast Asia's other major country: Japan. In recent weeks, Pyongyang has revived discussions with Tokyo over North Korea's abduction of Japanese citizens in the 1970s and 1980s, an issue of great emotional resonance in Japan. Resolving this issue would significantly strengthen ties between the two countries, and unlock Japanese investment -- a source of hard currency North Korea desperately craves. Japanese ties with China and South Korea, meanwhile, have chilled.
Xi Jinping's visit to Seoul, then, is more than simply about his country's relationship with South Korea.
"Events in Northeast Asia never happen in isolation -- there's always a regional context," Cathcart said.
© Copyright IBTimes 2023. All rights reserved.