China's Stake In Suriname: Why Is Beijing Interested In This Small South American Country?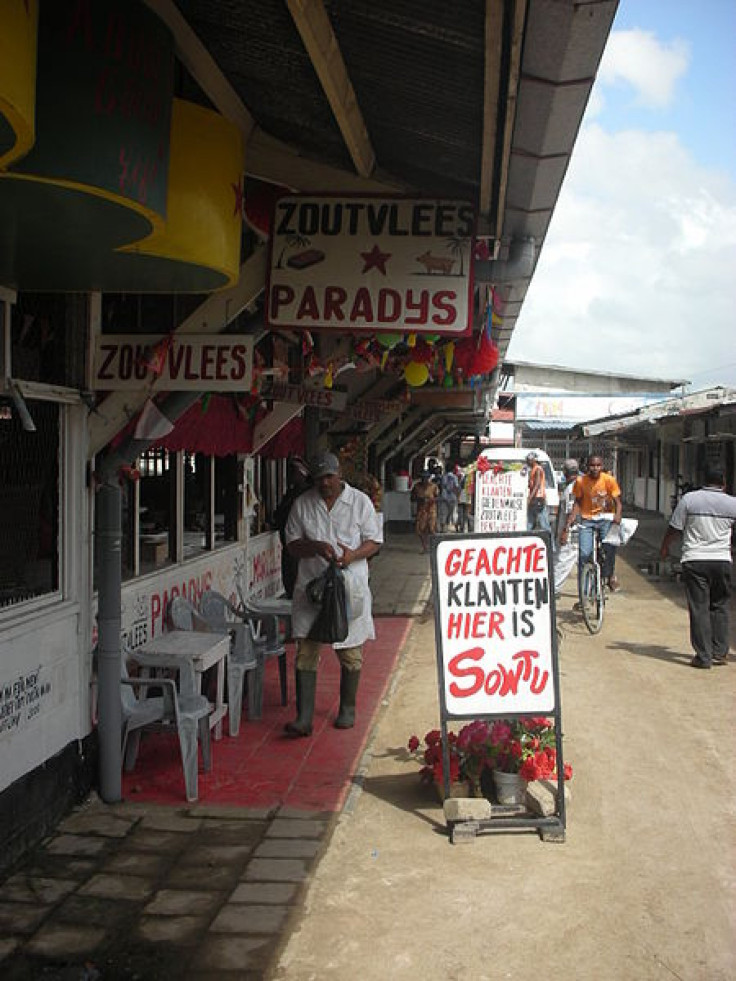 Little is known in the outside world about Suriname, a small country on the northern coast of South America. Wedged -- along with neighbors Guyana and French Guiana -- between Brazil and Venezuela, the old Dutch colony has stayed largely quiet and under the radar throughout some of the most turbulent episodes of recent Latin American history.
But it has certainly attracted the attention of natural-resource-hungry China. Suriname is blessed with bauxite (an aluminum ore), an unspoiled rain forest, which covers 80 percent of the country, and lots of available arable land. Only about half a million people live in Suriname, a territory the size of Florida. And China wants a piece of it.
The Asian giant has slowly but surely made its way into this forgotten corner of South America, with a surge of aid and low-interest loans, as reported by the New York Times. Suriname also has a sizable Chinese population -- estimated at about 10 percent of the population -- dating back to immigrants who arrived in the 19th century, as well as a number of recent arrivals, including those in the country illegally.
"Suriname is a lucky country, such [a] small population, so much land," said the former Chinese ambassador to Suriname, Yuan Nansheng, who served in the country from 2009 to 2013. With the change of government in China in March, Yuan was replaced by Yang Zigang. But it appears new President Xi Jinping's government will maintain its ties with the South American country -- indeed, Surinamese officials met with Xi during his visit to nearby Trinidad and Tobago on Wednesday.
Suriname may actually need China. Since its erstwhile imperial paymaster, Netherlands, shuttered an aid program benefiting its former colony in 2010, China has become the top financial provider to Suriname. Figures are hard to obtain, but the Chinese embassy lists low-income housing, assistance for shrimp farming and an upgrade of the state television network as three of its principal projects in the country. Private investment has focused on transportation, with the China Dalian International Corp. (SHE:000881) providing some $6 billion to construct a deep seaport and new highways.
The website of the Chinese embassy in Suriname lists no new developments since 2009. Thus it is unclear what new investments have been made since then. The Suriname embassy in the U.S. did not reply to requests for interviews.
However, one expenditure made by China was military aid -- the Beijing government has donated $1.6 million in material and training to Paramaribo. "We want to provide convenience to the work of the Ministry of Defense and the Surinamese Army as they carry out their mission of safeguarding the country's sovereignty and territorial integrity," Yuan said back in 2009.
Still, the full extent and magnitude of China's interest in this South American country is not entirely clear. Evan Ellis, a professor of national security studies at the National Defense University in Washington, argued that it is not so much that China has a particular interest in the country, but that it is just giving Suriname the same attention it has granted to the rest of natural-resource-rich South America. "It is not a matter of zeroing in [on Suriname], but just not overlooking it like the rest of the world is doing," Ellis said.
Suriname: A Mixed Bag
Ellis, who taught as a visiting professor in Paramaribo's university, said the natural resources -- such as oil, iron and copper -- that make South America so attractive to foreign investors are present in Suriname, too, but that other factors make Suriname less appealing.
The unique language (Dutch and Creole variations) and culture (a bewildering mixture of European-African-Asian influences), as well as the inadequate transparency of its economy and markets, have made some Western investors wary of Suriname. "But since China is already facing a language and culture barrier with the rest of the [South American] continent [anyway], there is no reason for [it] to turn a blind eye to Suriname," Ellis said.
According to former ambassador Yuan, China's interest in Suriname is purely altruistic: It insists it is simply establishing "solidarity" with another developing nation, and that it has no intention of making the country a "cultural colony." In fact, the Asian superpower has avoided interfering in local politics by maintaining cordial ties with Suriname's President Desi Bouterse, a former military dictator who was elected president -- but who is also widely regarded as having committed gross human-rights abuses and engaged in drug trafficking.
As leader of the National Democratic Party, Bouterse was easily elected as Suriname's president in July 2010. His candidacy was not at all hindered by the fact that he was a fugitive from Interpol at the time of the poll, that he is a convicted cocaine smuggler, and that he allegedly played a role in the killing of 15 members of the opposition in December 1982, when he ruled as a military dictator.
Now 68 years old, Bouterse has a peripatetic and eccentric background -- he never finished high school and joined the armed forces of the Netherlands at age 23. He returned to Suriname two weeks before the country gained its independence from the Dutch in 1975, and joined the coup d'etat that overthrew the democratic government of Henck Arron five years later. Bouterse then became the head of a military-run state, which imposed an evening curfew, censorship and a ban on political parties,. among other repressive measures.
On Dec. 8, 1982, 15 young Surinamese men who openly criticized Bouterse's dictatorship were taken from their beds and brought to the government headquarters where they were tortured and shot dead, thereby creating a chill between Suriname and western nations, particularly Holland.
After years of international pressure, Bouterse finally allowed elections in 1987, which opened the way to a democratic government. However, the new constitution allowed him to remain in charge of the army, a post from which he resigned (by telephone) in 1990, although he remained a power behind the scenes in Surinamese political affairs.
By 1999, Bouterse was convicted in absentia in the Netherlands for trafficking 474 kilograms of cocaine and sentenced to 11 years in prison. He always denied the charge, and refused to turn himself in. There is even an international warrant for his arrest ordered by Interpol, but since he won the 2010 election, he has been granted immunity from prosecution -- an immunity that also protects him from charges related to the 1982 massacre.
Humanitarian organizations have long condemned the violation of human rights in the country. Amnesty International special adviser Javier Zúñiga said the fact that more than 30 years after the 1982 murders nobody has been convicted of the crime is "simply shameful" and sets Suriname apart from nearby countries. "[Suriname's] neighbors in Latin America ... have made steady progress when it comes to bringing justice to the victims of their dark past," he said. "The Amnesty Law has no place in Suriname today."
Looking Not Backward But Forward
However, China has no problem with the troubling questions surrounding Bouterse's past, Yuan told the New York Times. While Bouterse has not been to China despite a standing invitation, Surinamese Foreign Minister Winston Lackin did visit Beijing last November, when he was received by his then counterpart there, Yang Jiechi.
"As developing countries, both China and Suriname face major tasks in developing their economies and improving people's livelihoods," Yang said in a statement. "China attaches great importance to developing relations with Suriname."
While Xi appears to be taking a somewhat more cautious approach with Suriname's government, the National Defense University's Ellis assured that the trade and diplomatic links between the two countries will continue unabated.
Strangely, although Beijing is keeping good relations with Suriname, Chinese immigrants have faced some hostility in the country. In recent years, there have been two major incidents involving the Chinese community. In 2009, Chinese shopkeepers were victims of looting and violence in the border town of Papatam; in 2011, Chinese residents of the mining town of Maripaston suffered considerable property loss. As a result, the Chinese in Suriname have turned inward, operating two newspapers and one TV station in Mandarin. They principally communicate in Cantonese and other Chinese dialects -- they know barely any Dutch.
So, questions about the duration and magnitude of China's interest in Suriname remain unanswered. "Suriname will either become an example of [an] opportunity China took advantage of while the West turned away on moral grounds," Ellis said, "or it will be 'another Libya,' where China's insensitivity to the depredations of the [local authorities will] ultimately cost the country its commercial position and its goodwill with the Surinamese people."
Follow me on Twitter: @PReyMallen
© Copyright IBTimes 2023. All rights reserved.
FOLLOW MORE IBT NEWS ON THE BELOW CHANNELS