Chinese Economy: Contraction In Manufacturing Eases In December, But Deflationary Risks Persist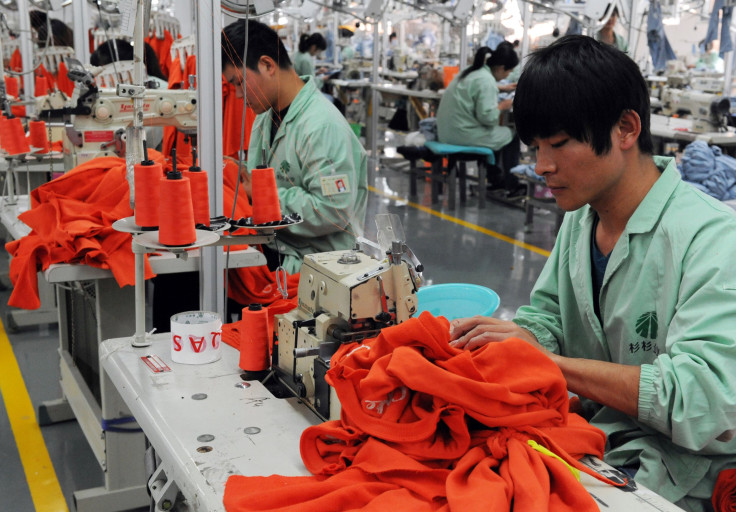 Activity in China's manufacturing sector continued to contract for the fifth straight month in December, official data released Friday showed. However, the contraction eased slightly, signaling a slight gain in momentum in the beleaguered economy.
The Purchasing Managers' Index (PMI) for the manufacturing sector, released by China's National Bureau of Statistics, stood at 49.7 in December — a slight improvement over the previous month's 49.6. While figures pointed to a modest uptick in manufacturing in the country, the improvement was below the 49.8 level forecast by analysts.
Any PMI reading below 50 indicates a contraction on a monthly basis.
"The economy will continue to muddle through," Li-Gang Liu, an economist at the Australia and New Zealand Banking Group, told the Wall Street Journal. "In the coming year, we're not going to see any turnaround in the economy. China's economy is weighed down by large debt and will continue to slow."
In December, the total new orders, which are a measure of domestic and foreign demand, rose to 50.2, from November's 49.8. However, new export orders failed to shrug off their prolonged contraction and continued to shrink, albeit at a less severe pace.
Over the past year, the Chinese economy has been weighed down by stubbornly soft demand, both at home and abroad. This has forced factories to slash selling prices, which has not only reduced their profits, but also added to the deflationary pressures the country is facing.
The Chinese central bank is now expected to further cut interest rates and lower the amount of cash that banks must hold as reserves, in order to boost growth and ward off deflation risks.
"The Chinese economy is unlikely to show improvement until the second half of 2016, and the first quarter could be very difficult," Zhang Yiping, an economist with China Merchants Securities, told the Journal.
However, the Chinese services sector, which accounts for a major part of China's economic output, continued to expand in December, coming in at 54.4, up from November's 53.6.
The services sector has also been the fastest growing sector in the country. In 2014, for instance, it accounted for 48.2 percent of China's gross domestic product, compared with the 42.6 percent contribution from manufacturing and construction.
© Copyright IBTimes 2023. All rights reserved.