Chinese Police Detain 5 People With 1.8 Tons Of Bomb-Making Material In XInjiang Province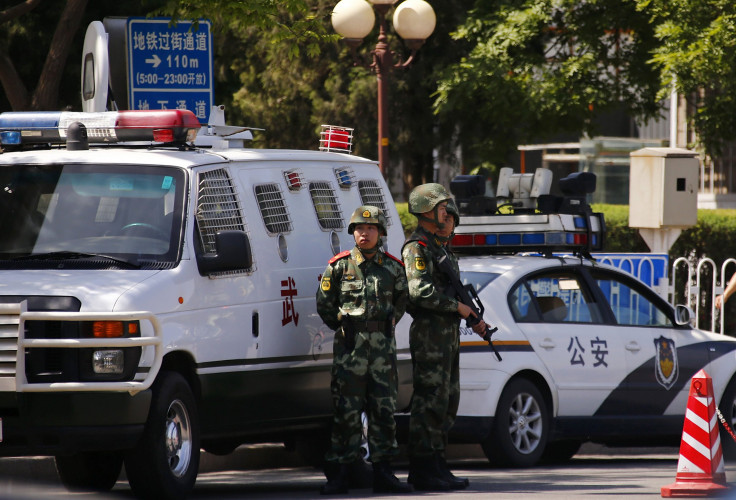 Chinese police have detained five people and seized 1.8 tons of bomb-making material in Xinjiang, a troubled region in the country's northwest, authorities said Tuesday.
The arrests took place after China vowed a year-long crackdown on terrorism last week as violence on civilians by separatists from Xinjiang, which is home to about nine million Muslim Uighurs, who complain about religious and cultural repression by Beijing, has increased in recent months. Last week, 39 people were killed and more than 90 injured in an attack in the regional capital of Urumqi, which prompted the use of the word "terrorism" by the White House to describe the act, highlighting the growing unrest in the region.
Officers in and around Hotan in southern Xinjiang "destroyed two explosive-making dens and seized 1.8 tonnes of raw material that the gang planned to use to make explosive devices, along with a large amount of partly finished explosive devices," a report on the regional government's website said, according to Agence France-Presse, or AFP, adding that the group began making explosive devices in recent days with the goal of "driving into a crowded place, running people over and setting off bombs."
According to AFP, the gang's members had watched videos promoting terrorism and religious extremism, and were instructed by their leader to obtain materials from Urumqi and other parts of China.
During a visit in April by Chinese President Xi Jinping to the region, attackers armed with knives and explosives killed one person and wounded 79 at an Urumqi railway station. A similar incident -- dubbed "China's 9/11" by state media -- took place at a railway station in southwestern Kunming city in March when 29 people were killed and 143 were wounded.
According to local reports, police have arrested more than 200 suspects and seized more than 200 explosive devices around Xinjiang over the past month. However, it is not clear how such groups organize in Xinjiang and how strongly they are linked to foreign groups.
"Cracking down on violent terrorist activities must be the focal point of the current struggle," official news agency Xinhua said, in a report. "Ethnic separatist activities must be resolutely opposed and lawfully combated."
© Copyright IBTimes 2023. All rights reserved.