Chinese State Media Suggests US Submarine Spying Prompted Fighter Jet Confrontation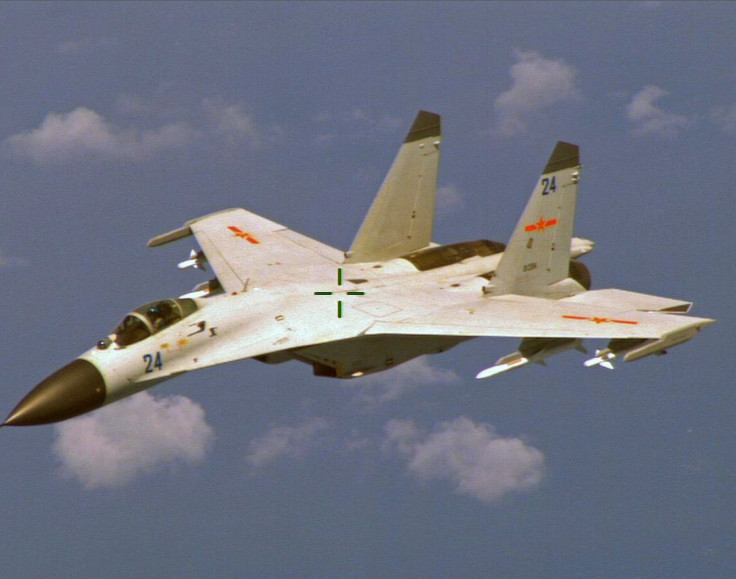 Chinese state media has responded to diplomatic complaints made by the White House after China sent a military plane dangerously close to a U.S. surveillance plane last week. According to the Global Times, a Beijing-based newspaper affiliated with the Communist Party mouthpiece newspaper People's Daily, the Chinese pilot was only reacting to spying efforts by the U.S.
The report quoted an unnamed military expert who suggested that the Chinese plane's maneuvers, which Pentagon press secretary John Kirby condemned as "aggressive and "dangerous" were part of a trained response to perceived "large-scale and highly frequent close-in reconnaissance" by American forces, and that the U.S. plane was "seriously interfering" with a Chinese submarine.
The source goes on to say that it was possible that the U.S. jet dropped a sonobuoy, a device that would allow for underwater surveillance, into waters near the Chinese submarine, which would be a "very serious provocation" that would warrant a response. The anonymous military expert also implied that the Chinese response was comparatively subdued, saying the military has been "restrained" when it came to dealing with U.S. planes encroaching on what they consider Chinese airspace. The incident happened 135 miles (200 km) east of Hainan, over what the U.S. said were international waters.
In a news briefing on Thursday, China's Defense Ministry spokesman Yang Yujun reiterated accusations of U.S. spying.
"What I need to stress is that the U.S. side has kept talking about the technical issues like the distance between the two aircraft, but ignored a policy issue of highly frequent close-in reconnaissance activities against China," Yang said during the briefing, adding that the confrontation "gravely undermined China's security interests as well as China-US strategic mutual trust and bilateral ties."
The U.S. State Department has previously stated that the reconnaissance flight was a transparent operation that China knew about ahead of time, a claim that Yang disputes.
The spying allegations come on the heels of a separate incident earlier this week where the Taiwanese air force reportedly chased away two Chinese fighter jets after the latter breached airspace boundaries without warning. Two Chinese maritime patrol aircraft entered Taiwan's air defense identification zone (ADIZ) at separate times on Monday. In response Taiwan deployed its own fighter planes to "make sure they left our ADIZ," Taiwanese Air Force Maj. Gen. Hsiung Hou-chi said. China rejected Taiwan's claims that the ADIZ was breached.
© Copyright IBTimes 2023. All rights reserved.