Chinese Telecoms Giant ZTE Seeks Solution To US Commerce Department Ban, But 'Uncertain' Over Outcome
SHANGHAI — Chinese smartphone and telecom equipment giant ZTE says it will cooperate with the U.S. government to find a "resolution", after the U.S. Commerce Department Tuesday banned American suppliers from selling components to the company, accusing it of having conspired to "illicitly reexport" controlled items to Iran in contravention of U.S. laws. However the company said it was uncertain about the outcome of negotiations — and Chinese media said the ban, if fully implemented, could deal a "crippling" blow to the Shenzhen-based company, the world's fourth largest manufacturer of telecom equipment.
China's Foreign Minister Wang Yi criticized the U.S. move Tuesday, saying it was "not the correct way" to handle an economic dispute, China's Foreign Ministry spokesman also called on the U.S. to overturn the decision "to avoid damage to trade cooperation and bilateral relations." And China's Ministry of Commerce said Tuesday that China would "continue to engage with the U.S. side on the issue."
ZTE said in a statement, released Tuesday, that it was "fully committed" to compliance with the laws and regulations in the jurisdictions in which it operates, and would "cooperate and communicate with all U.S. agencies as required," according to Chinese media.
ZTE's chairman Hou Weigu said in a filing to the Hong Kong stock exchange on Wednesday that the company was "actively facilitating communications with the U.S. governmental department to search for a solution", the South China Morning Post reported. However, Hou added that there was "uncertainty as to whether a solution can be achieved." Trading in the firm's shares listed in Hong Kong has been suspended since Monday, pending a resolution of the situation.
The U.S. commerce department's move follows a report by Reuters in 2012 that a contract between ZTE and Iran's state-owned telecom company TCI would enable the latter to monitor phone and internet communications in the country, in breach of U.S. export rules. Under the terms of the ban, ZTE's suppliers in the U.S. would have to obtain what Chinese media called a "hard-to-get permit" before they could sell the company products any further.
Some Chinese commentators have questioned the timing of the announcement. An op-ed article in the official Global Times newspaper Wednesday suggested ZTE could have been "unfairly targeted." Noting that U.S. relations with Tehran were currently thawing, it added: "In an election year, China and Chinese companies are more likely to be scapegoated for scoring political points."
Another expert, however, argued that the election provided a useful smokescreen for a move that was really designed to "restrict free trade to contain the development of the Chinese telecommunication industry." Xiao Yaofei, a professor at Guangdong University of Foreign Studies, told the official Xinhua news agency that "the U.S. does not want to lose its dominance" of a sector in which Chinese companies are playing a growing role.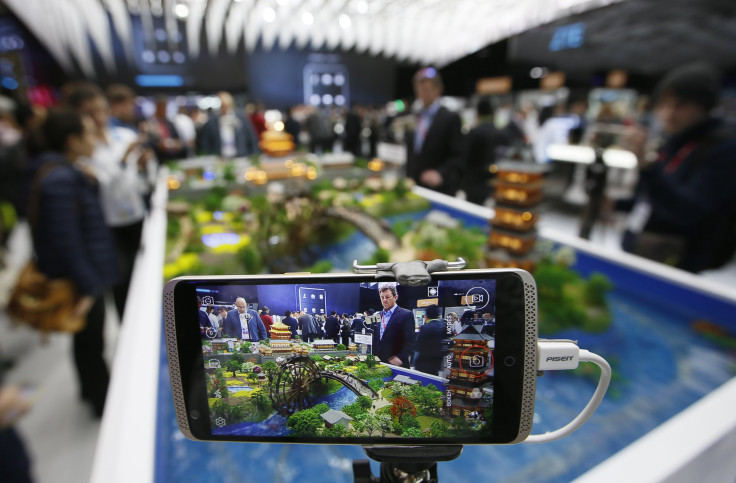 ZTE is currently the fourth-largest vendor of smartphones in the U.S., with a market share of around 8 percent. While it mainly provides low-cost handsets, including to carriers such as AT&T and T-mobile, it is also targeting higher-end consumers with its new Axon brand. Other Chinese brands including Huawei and Xiaomi are also seeking to break into the U.S. market.
The Global Times said the ban, if implemented, "would deal a heavy blow" to ZTE, at least in the short term, since it would "cripple" its ability to use chips and other technology from U.S. companies such as Intel and Qualcomm, on which it has relied up to now. It said the company would eventually be able to find other non-U.S. suppliers if necessary, but the ban might damage its reputation and competitiveness.
However, it also argued that the U.S. itself would "finally pay the price for any ... unfair treatment of Chinese companies," since "tens of thousands of U.S. jobs are supported by ZTE's technology purchases." Some Western analysts also said the ban could have a significant impact on international suppliers of ZTE, according to Reuters, which added that ZTE had already asked its suppliers to apply for export licenses to continue selling it their products.
The row over ZTE, which had revenues of some $15 billion last year, is the latest in a series of clashes in the U.S. over Chinese business practices. ZTE and Huawei came under investigation by Congress in 2012, and are banned from selling network equipment to U.S. carriers or providing technology to the U.S. government. The U.S. has also recently imposed punitive anti-dumping import tariffs on some Chinese steel products. Tension has also been raised by Beijing's increasingly tough requirements for U.S. technology companies operating in China — and the Chinese authorities recently imposed an antitrust fine of almost $1 billion on Qualcomm.
James Yan of consultancy Counterpoint Technology Market Research said there was a chance of a negotiated settlement, the China Daily reported. "I believe ZTE will team up with the Ministry of Commerce and its major partners in the U.S., including Qualcomm, to negotiate with the U.S. authorities," Yan said.
The company's U.S. division said it would not be directly affected by the ruling, as it was targeted at its Chinese parent. And some reports have also said ZTE could appeal to have the ruling overturned, though the company has not confirmed that it would do so. Nevertheless, stock analysts said the company could face "severe component problems," affecting both its network and smartphone products, while it waited for more information from the U.S. authorities.
© Copyright IBTimes 2023. All rights reserved.