Chris Christie Calls Aides in Bridge Scandal 'Inexplicably Stupid' In Diane Sawyer Interview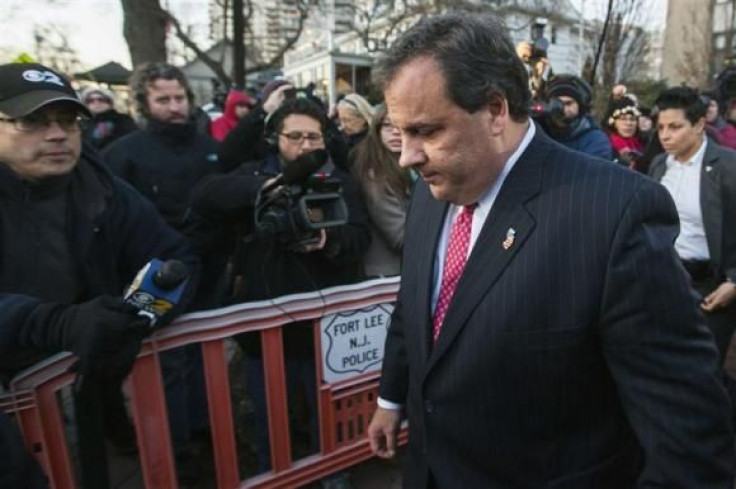 In an exclusive interview with Diane Sawyer of ABC News, New Jersey Gov. Chris Christie said that former aides were "inexplicably stupid" when they allegedly shut down lanes leading to the George Washington Bridge and clogged up Fort Lee, N.J., with massive traffic.
The conversation with Sawyer was Christie's first television interview since his January press conference regarding the George Washington Bridge lane closure scandal, according to ABC News.
"When things were first reported, I said: 'This can't possibly be true. Because who would do something like that?'" Christie told Sawyer. "Sometimes, people do inexplicably stupid things."
"And so that's what makes it so hard then to, as the guy in charge, you…none of it made any sense to me," he added. "And to some extent still does not."
An investigation commissioned by Christie on Thursday cleared the governor of wrongdoing in the so-called Bridgegate scandal and aimed blame at staff members for planning the huge traffic mess near the George Washington Bridge in September 2013, Reuters reported. "Our investigation found that Governor Christie did not know of the lane realignment beforehand and had no involvement in the decision to realign the lanes," said the report by law firm Gibson, Dunn & Crutcher, hired by Christie to investigate the September 2013 traffic havoc in Fort Lee, New Jersey.
Two Christie aides were fired for allegedly shutting down lanes of the bridge, causing a traffic jam in Fort Lee, N.J., to punish the Democratic mayor of the town.
The interview, which was schedule to air Thursday night on "World News With Diane Sawyer," took place the day that the law firm retained by the Christie administration released the report.
But while lawyer Randy Mastro, who headed the investigation, said at a Thursday news conference that the "findings today are a vindication of Gov. Christie," the investigation was met with plenty of skepticism by New Jersey Democrats who also are probing the scandal, USA Today reported.
"It reads more like a novel than a work of fact,'' said Assemblyman John Wisniewski, chairman of the legislative panel investigating the bridge lane closings. "It's very difficult to tell the truth when you don't hear from all sides.''
The internal review featured interviews with Christie and his staff and examination of emails and cell phone records, according to USA Today.
But the investigators didn't interview the three people at the heart of the scandal: Christie aide Bridget Kelly, who wrote an email that stated: "Time for some traffic problems in Fort Lee;" Bill Stepien, campaign manager for Christie's 2013 re-election; and David Wildstein, a Christie high-school classmate who was hired by a Christie appointee at the Port Authority of New York and New Jersey.
The Port Authority controls the George Washington Bridge. All three have cited their Fifth Amendment rights in refusing to answer questions from investigators. The report acknowledged that Wildstein has said that he told a Christie aide that he mentioned the traffic issue to the governor while it was happening. Christie told the investigators that he "did not recall" such a conversation, and the report did not delve further into that allegation. Christie also told investigators he "did not recall" ever talking to Kelly about the bridge lane closings, Mastro said.
The report, which Christie received on Wednesday, reportedly found no evidence that Kelly and Wildstein caused the lanes to be closed as retribution for the town's Democratic mayor refusing to endorse Christie's re-election.
"What motivated this act is not yet clear," Mastro said.
In the ABC interview, Christie said he is also mystified. "As the guy in charge, none of it made any sense to me, and to some extent, still does not.''
The Republican governor also said that the controversy, which has lasted more than two months, has taken a toll on his professional life, ABC News reported.
"You don't sleep, you don't eat... you struggle. You struggle," Christie said. "But I do believe that what doesn't kill you makes you stronger."
"It's been a very, very tough time professionally," he added. "Not the toughest time in my life, but certainly the toughest time in my life professionally."
© Copyright IBTimes 2023. All rights reserved.