Churches Offer Sanctuary As UN Criticizes Australian Asylum Policy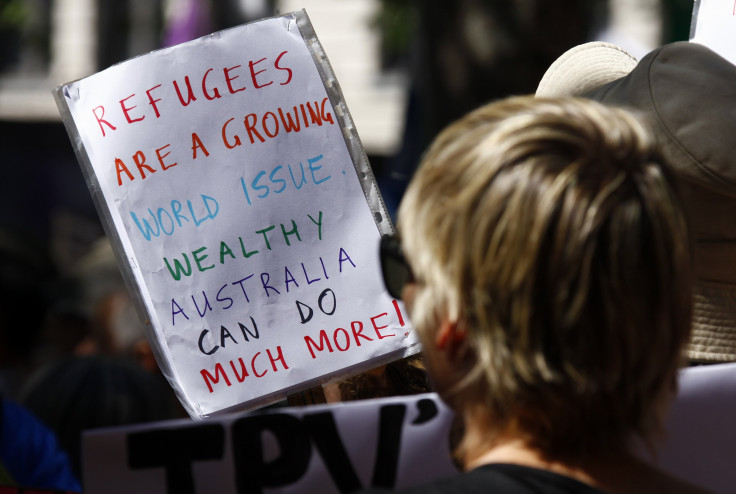 An Australian court ruling paving the way for the deportation of over 250 asylum seekers to an offshore immigration camp drew criticizm from the United Nations and sparked protests on Thursday, while church leaders publicly offered them sanctuary.
On Wednesday, the High Court rejected a legal test case that challenged Australia's right to deport detained asylum seekers to the tiny South Pacific island of Nauru, about 3,000 km (1,800 miles) northeast of Australia.
Some 267 people who were brought from Nauru to Australia for medical treatment, including up to 80 children, are now at risk of being returned to the detention center that houses around 500 people. The center has been widely criticized for harsh conditions and reports of systemic child abuse.
Rupert Colville, the spokesman for the U.N. High Commissioner for Human Rights, said in an emailed statement that Australia could contravene its obligations under the Convention on the Rights of the Child by sending back the group, which includes more than 12 women and at least one child who have alleged sexual assault or harassment while in Nauru.
The group also includes 37 children born in Australia.
Under Australia's immigration policy, asylum seekers attempting to reach the country by boat are intercepted and sent to camps on Nauru or on Manus island in Papua New Guinea.
The government says the policies are necessary to stop asylum seekers dying at sea aboard the often rickety boats used by people smugglers.
Immigration Minister Peter Dutton reiterated in a statement that asylum seekers arriving by boat would either be intercepted and turned back or "sent to another country for processing".
However, in an interview on ABC Radio on Thursday, he appeared to open the door to at least some of those affected remaining in Australia.
"If there are exceptional circumstances in the individual cases, then we're happy to look at that – and that's always been the case," he said.
While the numbers of people attempting to reach Australia are small in comparison with the floods of asylum seekers in Europe, the issue is a big political challenge for Prime Minister Malcolm Turnbull.
Hundreds of Australians on Thursday protested outside the Sydney offices of the Department of Immigration, with more rallies planned in cities across the country.
"It's a completely dreadful and immoral thing that we are sending kids back there. It makes me ashamed of my government and ashamed of Australia" Sara Lubowitz, 52, told Reuters.
Several churches have offered sanctuary to the asylum seekers.
The Anglican Dean of Brisbane, Peter Catt, declared the city's cathedral a sanctuary for those who have suffered trauma and risk abuse if they are returned to Nauru.
© Copyright Thomson Reuters 2023. All rights reserved.
FOLLOW MORE IBT NEWS ON THE BELOW CHANNELS