'Clash Royale' Retro Royale Challenge Decks: Best Decks For Winning The Throwback Challenge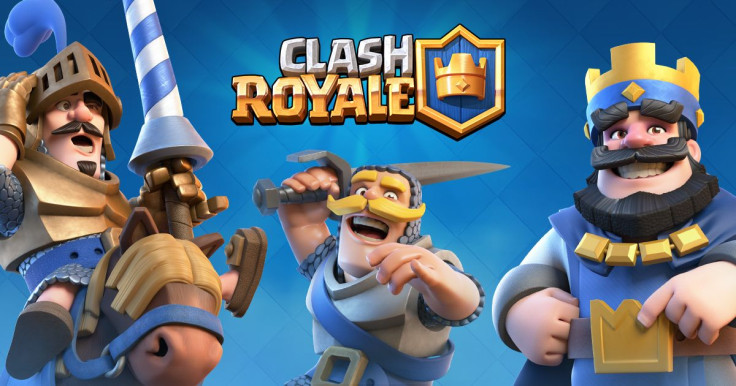 Looking for the best decks for winning the Retro Royale Challenge in Clash Royale this weekend? Check out our collection of 6-0 decks for beating the challenge and winning all the prizes, here.
As part of the ongoing Clash Royale one-year anniversary celebration, Supercell announced a new Retro Royale challenge that kicked of Thursday and will run throughout the weekend. If you aren't familiar with the challenge, basically players will be take back to their roots, competing against one another using decks that only include original cards from the initial game release.
While these early cards are likely the ones most Clash Royale players are familiar with, the Retro Royale Challenge does bring a unique twist to the tournament space as many of us have grown attached to some of the newer cards as part of our daily battle decks. If you are hoping to play in the Retro Royale Challenge but aren't sure what the best deck is to pick, we've scoured around and pulled together a list of some of the best decks we've found on the web for winning the Retro Royale Challenge. Some of the decks come with tips and strategies. Where those are available, we've linked to the original posts. Hopefully some of these ideas will help you successfully rise to the top and gain all the prizes in Clash Royale's Retro Royale Challenge. We've also added a quick overview of the Retro Royale Challenge and Prizes you will receive with each win.
Best Clash Royale "Retro Royale Challenge" Decks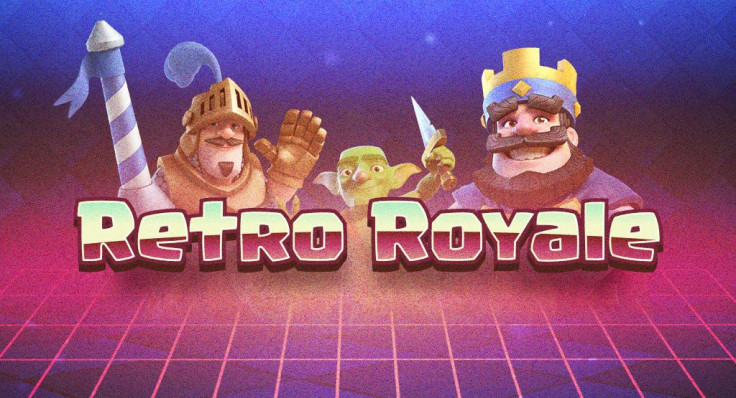 Deck 1 (Source: Reddit)
Minion Horde
Goblin Barrel
Mirror
Pump
Arrows
Skarmy
Knight
Wizard
Deck 2 (Source: Reddit)
Golem
Musketeer
Skeletons
Elixir pump
Baby dragon
Lighting
Zap
Deck 3 (Source: Reddit)
Pekka
Wizard
Bomber
Archers
Hog
Tombstone
Barbarians
Skeletons
Deck 4 (Source: Reddit)
Goblin Barrel
Skeleton Army
Hog
Inferno
Fireball
Musketeer
Zap or Arrows
Skeletons
Deck 5 (Source: Reddit)
Zap + Arrows = Spellbait
Musketeer + Cannon = defense against Balloons and Golem
Minions – general defense
Skeleton Army – defense against Giants, Mini Pekka and Prince
Giant Balloon - your tank.
Deck 6 (Source: Reddit)
Xbow
Knight
Archers
Skeletons
Skarmy
Minions
Zap
Arrows
Deck 7 (Source: Reddit)
Elixir Collector – lay down as soon as you get it. Keep adding more as you can.
Inferno Tower - Good defense against Giant, Hog and Balloon.
Giant Skeleton - defensive and offensive. As soon as you've got some elixir stored up start a push from the back. If it dies then it will take their defensive troops with it (or even stop a push for a great counterpush).
Mirror
Zap - A great spell for if your giant skelly gets crowded out by skeletons and can take care of most threats or at least delay them until you have something else to take care of them.
Goblin Barrel – As soon as opponent sends troops against Giant Skelly, send these over. If they get hit with arrows, mirror another
Minions – Air defense and great for clearing up ground troops and reinforcing your push.
Barbarians - Your main reinforcement for the Giant Skeleton.
Clash Royale 'Retro Royale Challenge' Prizes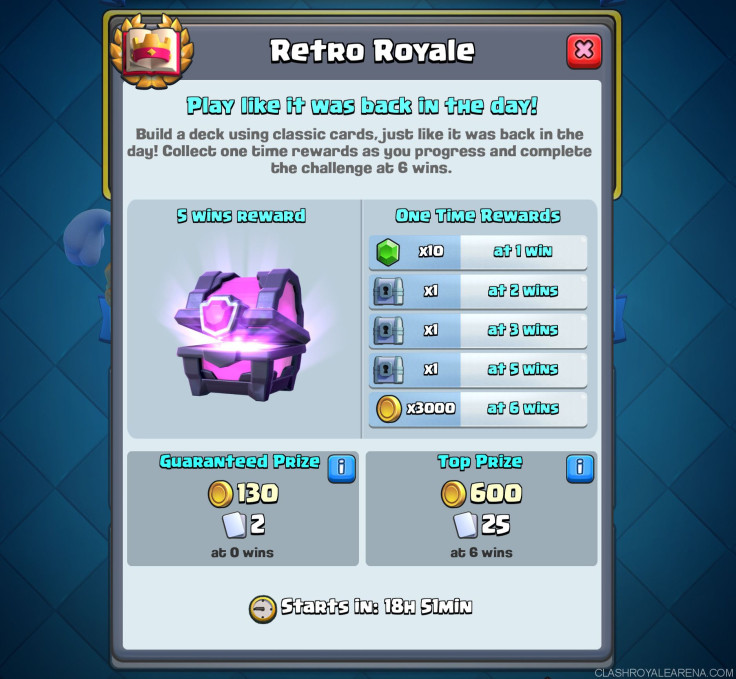 1 win: 10 gems
2 wins: a Silver Chest for your Arena
3 wins: a Gold Chest
5 wins: a Magical Chest
6 wins: 3,000 gold plus Six-Win Chest, which includes 600 gold and 25 cards
Got a great Retro Royale Challenge deck you want to share? Send it to c.harbison@ibtimes.com and we'll add it to the list.
© Copyright IBTimes 2023. All rights reserved.
FOLLOW MORE IBT NEWS ON THE BELOW CHANNELS