Clashes Between Mexico's Vigilante Groups Kill 6 People, Including A Leader's Son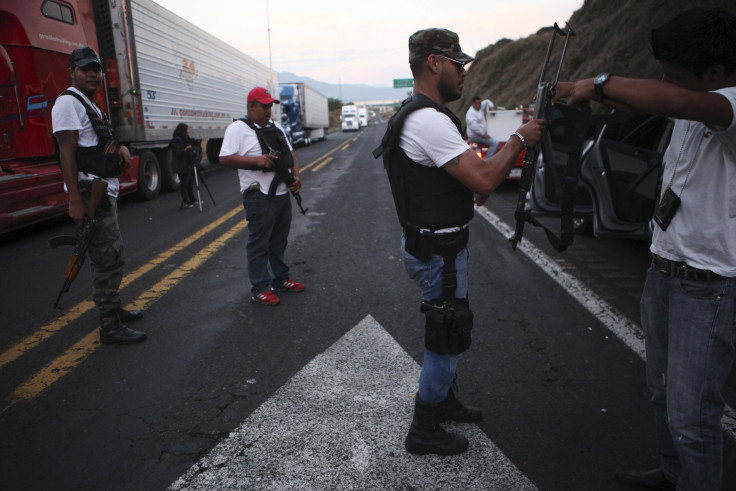 A face-off Tuesday between rival "self-defense" groups in Mexico's western state of Michoacan killed six people, including the son of a group founder, The Associated Press (AP) reported, citing military and government officials. The vigilante groups were formed more than a year ago to counter the drug cartels ravaging the country.
The groups reportedly fought at a barricade at the entrance of the La Ruana community, in Michoacan, killing four from one group and two from the other, AP reported, citing Alfredo Castillo, federal government's security commissioner for Michoacan. One of the groups reportedly led by a man known as "El Americano" was upset by the way Hipolito Mora, the leader of the other group, had been taking control of a disputed agricultural land. Both the groups also disagreed upon who would be the spokesperson for the "self-defense" groups in Mexico, AP reported.
The agricultural land called "Tierra Caliente," or Hot Land, formerly owned by the Knights Templar cartel, came under government control after "self-defense" groups helped combat the cartel.
"Each has to stay in his community," Castilo said, according to AP, adding: "If we have clashes between different communities we'll practically have a civil war."
Meanwhile, Mora, who lost his son in the strife, has reportedly put the blame on the other heavily-armed rival group, according to AP, which cited him as saying to a local news network.
Castillo also said, according to AP, that government forces are trying to keep the situation under control. Last weekend, the vigilantes, who also call themselves "autodefensas," took control of six roads in Michoacan, announcing their return in full force.
© Copyright IBTimes 2023. All rights reserved.