Clashes With Security Forces In India's Jammu And Kashmir Kill 1, Injure Several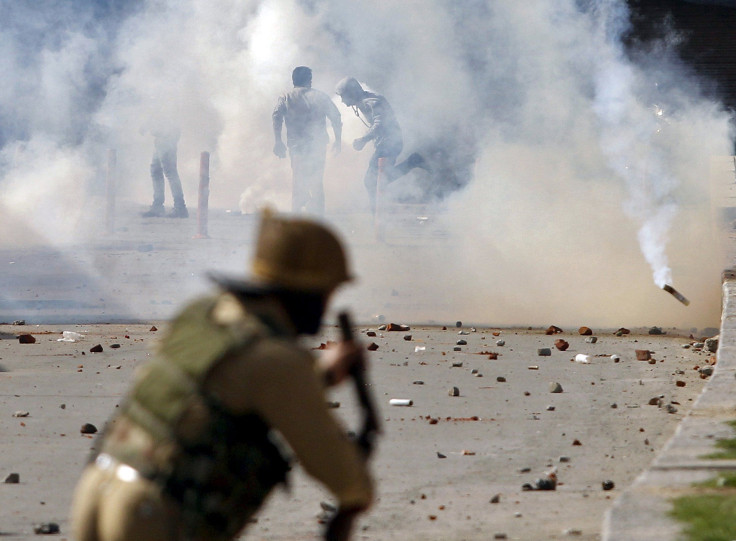 A day after a separatist leader was arrested in the north Indian state of Jammu and Kashmir for allegedly encouraging his supporters to wave Pakistani flags, one person was killed during clashes between protesters and security forces in the state. The clashes took place on Saturday during a strike called by separatist leader Syed Ali Shah Geelani, according to local media reports.
The person who was killed has been identified as a teenager named Suhail Ahmad Sofi. Three others were reportedly injured when troops fired on demonstrators hurling rocks in the town of Narbal. The incident came even as shops and businesses in the restive region were shuttered following a call by Geelani, who heads the All Parties Hurriyat Conference, a bloc of pro-separatist organizations.
The strike was in response to Masarat Alam's arrest, which came just weeks after his release from five years in prison on similar charges, and also to protest the killing of a civilian -- allegedly by Indian security forces -- in the town of Tral earlier this week.
"Police along with paramilitary police was deployed to contain the situation [in Narbal]. The deployed forces came under heavy stone pelting. To control the situation they fired few rounds resulting in injuries to a local youth identified as Suhail Ahmad of Narbal. Unfortunately, the injured later succumbed to his injuries in the hospital," a police spokesman reportedly said.
In a statement issued following the incident, police said that the matter would be promptly investigated. "Preliminary enquiry conducted into the matter indicates that the forces deployed have acted in violation of the laid down SOP [Standard Operating Procedure]," the police reportedly said in a statement.
Clashes between security forces and protesters are relatively common in the northern Indian state, which shares its borders with Pakistan in the west and China in the north and northeast.
© Copyright IBTimes 2023. All rights reserved.