Cleveland Police Union Demands Apology From Browns After Andrew Hawkins' Tribute To Tamir Rice, John Crawford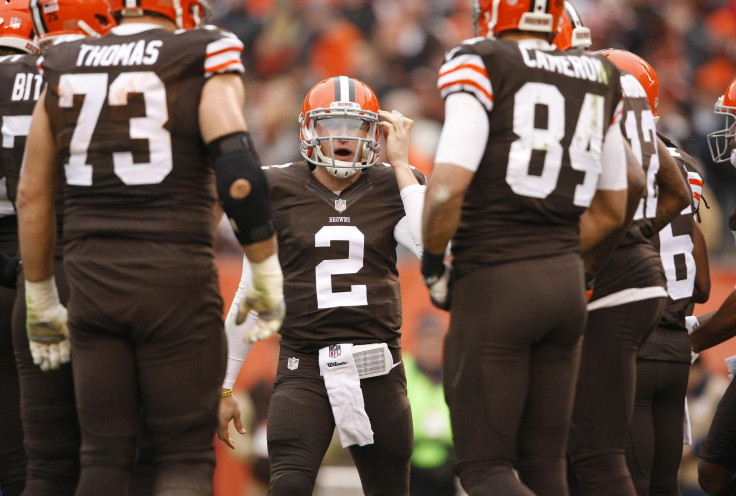 Cleveland Police Union president Jeff Follmer demanded an apology from the Browns football organization Sunday after wide receiver Andrew Hawkins wore a T-shirt in protest of the deaths of Tamir Rice and John Crawford during warm-ups for that day's game. Follmer called the tribute to two African-American males killed by police in Ohio in recent months "pathetic."
"It's pretty pathetic when athletes think they know the law. They should stick to what they know best on the field. The Cleveland police protect and serve the Browns stadium and the Browns organization owes us an apology," Follmer said in a statement, according to WEWS Channel 5 in Cleveland.
Rookie police officer Timothy Loehmann shot and killed Rice, 12, in a Cleveland park last month after he mistook Rice's Airsoft toy gun for a real firearm. The Cuyahoga County medical examiner's office ruled the shooting a homicide on Dec. 12. Crawford, 22, was shot and killed while holding a toy gun at a Dayton-area Walmart in August.
The Browns issued a statement in support of Hawkins' protest. "We have great respect for the Cleveland Police Department and the work that they do to protect and serve our city. We also respect our players' rights to project their support and bring awareness to issues that are important to them if done so in a responsible manner," the statement said, according to ESPN.
Hawkins' shirt read "Justice for Tamir Rice and John Crawford" on its front and "The Real Battle of Ohio" on its back. He served as team captain and wore the shirt at midfield during the coin toss.
The dispute between the Browns and the Cleveland Police Union mirrored a dispute between the St. Louis Rams and local police after the non-indictment of Ferguson police Officer Darren Wilson last month in the August shooting death of Michael Brown. Several Rams players struck a "hands up, don't shoot" pose before a Nov. 30 game against the Oakland Raiders in solidarity with Ferguson protestors.
The St. Louis Police Officers Association called on the NFL to publicly apologize for the gesture, but the Rams players were not fined or disciplined by either the league or team officials. "We respect and understand the concerns of all individuals who have expressed views on this tragic situation," an NFL spokesman said in a statement at the time.
© Copyright IBTimes 2023. All rights reserved.