Climate Change: Arctic Sea Ice Cover Headed To Its Lowest Level On Record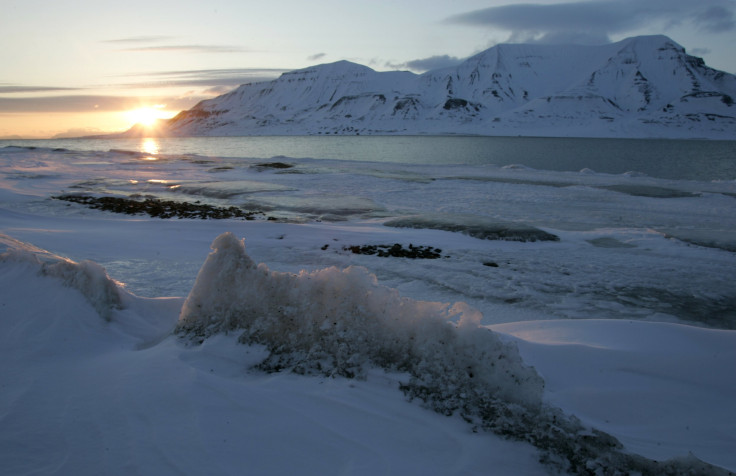 This year is already on track toward earning the notorious distinction of being the hottest-ever on record, with each successive month breaking temperature records. Nowhere is the effect of this inexorable rise in global temperatures more evident than in the Arctic — a region that's warming twice as fast as the rest of the planet.
Fresh data published Tuesday revealed that the Arctic sea ice may be on track to reach its lowest level in recorded history. According to the National Snow and Ice Data Center (NSIDC), last month Arctic sea ice spread over an area of 4.63 million square miles — 224,000 square miles below the previous record low for May reported in 2004 and 537,000 square miles below the 1981-2010 average.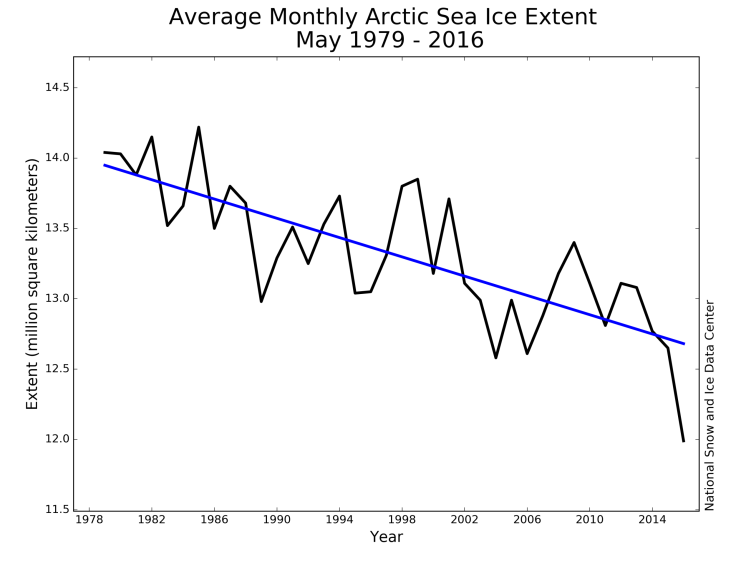 "Current sea ice extent numbers are tentative due to the preliminary nature of the DMSP F-18 satellite data, but are supported by other data sources. An unusually early retreat of sea ice in the Beaufort Sea and pulses of warm air entering the Arctic from eastern Siberia and northernmost Europe are in part driving below-average ice conditions," the NSIDC said in a statement. "Snow cover in the Northern Hemisphere was the lowest in fifty years for April and the fourth lowest for May."
Anthropogenic climate change, coupled with this year's extreme El Niño, pushed the average air temperature over the Arctic Ocean 2 to 3 degrees Celsius (4 to 5 degrees Fahrenheit) above the 1981-2010 average, with some regions in Chukchi and Barents seas recording temperatures that were up to 5 degrees Celsius above average.
"Air pressure patterns were not particularly unusual, but two areas of southerly winds in northern Europe and Alaska pushed higher than average temperatures into the Arctic Ocean, producing hot spots noted above and generally above-average temperatures across the Arctic," the NSIDC said in the statement.
Given that such conditions are being witnessed right at the beginning of the summer melting season, many now expect that the Arctic sea ice extent would fall below the previous record low of 1.32 million square miles seen in September 2012.
"We didn't just break the old May record, we're way below the previous one," NSIDC Director Mark Serreze told Climate Central. "Will we end up with very low sea ice extent this September? I think pretty much absolutely."
The impact of a warming Arctic is already being felt across the Northern Hemisphere, especially in Alaska and Canada, where almost a third of the land is now showing an unmistakable "greening" trend. Recent satellite data gathered by NASA show that between 1984 and 2012, over 30 percent of the 4 million-square-mile region witnessed an increase in vegetation.
"Temperatures are warming faster in the Arctic than elsewhere, which has led to longer seasons for plants to grow in and changes to the soils," NASA said in a statement released last week. "Scientists have observed grassy tundras changing to shrublands, and shrubs growing bigger and denser — changes that could have impacts on regional water, energy and carbon cycles."
© Copyright IBTimes 2022. All rights reserved.
FOLLOW MORE IBT NEWS ON THE BELOW CHANNELS