Climate Change: Five Reef Islands In The Pacific Have Now Been Lost To Sea-Level Rise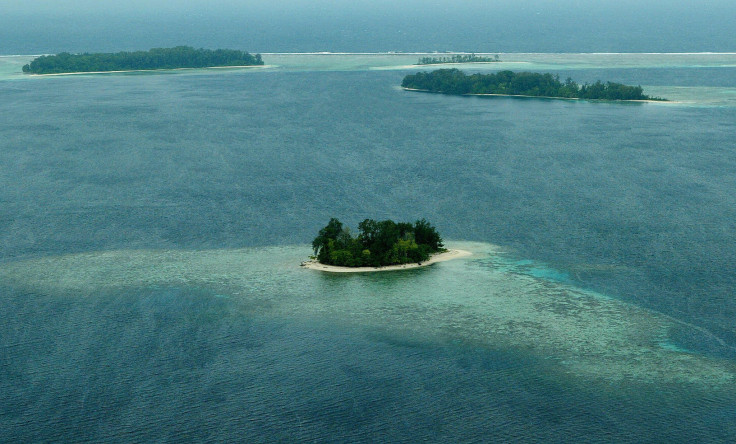 Leaders from over 170 nations gathered in New York last month to sign a historic climate pact that aims to keep the rise in global temperatures to within 2 degrees Celsius above preindustrial levels — an internationally-accepted red line. However, for some low-lying island nations, it may already be too late.
According to a new study published Friday in the Environmental Research Letters, sea-level rise and coastal erosion have already claimed five reef islands in the Pacific's Solomon Islands. The study, carried out by a team of Australian researchers, provides the first scientific evidence that confirms numerous anecdotal accounts of extreme shoreline changes put forward by scientists and local inhabitants across all provinces of the Solomon Islands.
"Shoreline recession at two sites has destroyed villages that have existed since at least 1935, leading to community relocations. Rates of shoreline recession are substantially higher in areas exposed to high wave energy, indicating a synergistic interaction between sea-level rise and waves," the authors said in the study. "Understanding these local factors that increase the susceptibility of islands to coastal erosion is critical to guide adaptation responses for these remote Pacific communities."
Over the past 100 years, global average sea level has risen nearly 7 inches, at a rate of about 3.4 millimetres per year. However, the seas surrounding the Solomon Islands have risen at an average rate of seven to ten millimetres per year — up to three times faster than the global average.
This has put Solomon Islands, which support a population of roughly 560,000 people, at a much greater risk of inundation due to climate change-induced sea level rise.
"Five of the twenty vegetated reef islands along the barrier reef on the exposed, northern coast of Isabel have been totally eroded away in recent decades," the authors said in the study, referring to one of the provinces of the Solomon Islands. "A further six islands on Isabel had declined in area by more than 20 percent between 1947 and 2014."
All the islands that disappeared ranged in size from one to five hectares but were not populated. However, the other six islands facing imminent inundation are.
"These rapid changes to shorelines observed in Solomon Islands have led to the relocation of several coastal communities that have inhabited these areas for generations. These are not planned relocations led by governments or supported by international climate funds, but are ad hoc relocations using their own limited resources," the authors of the study wrote for the Conversation. "In fact, in some cases entire communities have left coastal villages that were established in the early 1900s by missionaries, and retraced their ancestral movements to resettle old inland village sites used by their forefathers."
Solomon Islands are far from the only low-lying pacific region located at ground zero of global warming. Previous studies have shown that over the past decade, 15 percent of the population of Tuvalu — an island nation halfway between Australia and Hawaii — has left the country, while 12 percent moved internally. In Nauru, which has a similarly-sized population of just over 10,000, 10 percent have left the country in the past decade.
© Copyright IBTimes 2023. All rights reserved.
FOLLOW MORE IBT NEWS ON THE BELOW CHANNELS