Climate Change: Pacific Islanders Bear The Brunt At Ground Zero Of Global Warming
For several low-lying island nations in the Pacific Ocean, climate change is no longer a threat that can be left for future generations to tackle. Leaders of these nations have, time and again, launched urgent global appeals for help in combating climate change, which poses an immediate threat to their existence.
On Wednesday, one of the most comprehensive reports so far on climate change-induced migration from three Pacific island nations -- Kiribati, Tuvalu and Nauru -- was released during the ongoing talks in Paris. The report by the United Nations University and the European Union found that not only do most residents of the three nations feel that migration would become inevitable in the near future if climate impacts continue to worsen, many have already done so -- leaving their damaged crops and houses to take their chances in countries like Australia and New Zealand.
According to the report, over the past decade, 15 percent of the population of Tuvalu -- an island nation halfway between Australia and Hawaii -- has left the country, while 12 percent moved internally. In Nauru, which has a similarly-sized population of just over 10,000, 10 percent moved internationally and 7 percent wanted to move. There was no internal migration because of the geography of the country. And, in Kiribati, with a population of over 100,000, 1.3 percent migrated internationally and 7.7 percent internally, and a further 9 percent wanted to move but couldn't.
"Pacific islanders are facing the brunt of climate change impacts and are increasingly finding themselves with few options," Tuvalu's Prime Minister Enele Sopoaga reportedly said, commenting on the report.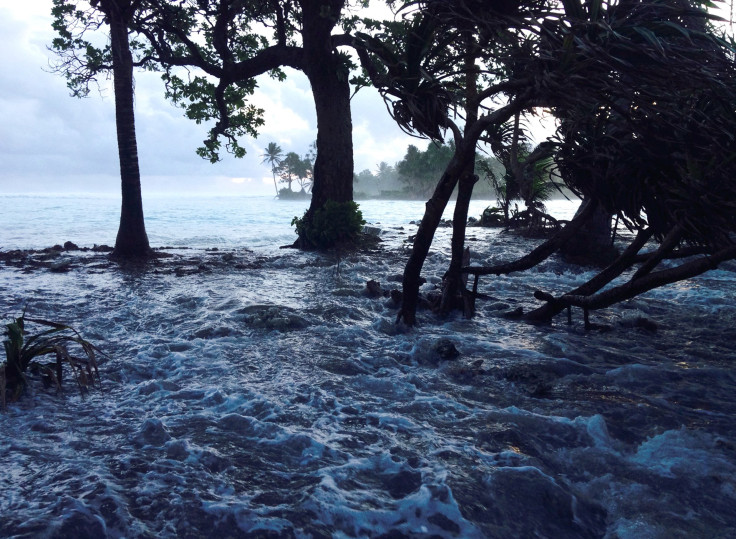 Of over 6,800 people surveyed in the three islands, only 26 percent believed that they would have enough money to migrate in the near future. The current median per capita monthly income in Kiribati, Nauru, and Tuvalu is $12. In the U.S., this figure stands at over $4,400.
Over the past 100 years, global average sea levels have risen over 7 inches. This has forced leaders from these low-lying island nations to push for a mechanism to address the so-called "loss and damage" they're experiencing largely as a result of the rise in sea levels.
According to forecasts by the researchers, assuming a medium climate change scenario -- which projects a temperature rise of up to 1.8 degree Celsius (3.2 degrees Fahrenheit) and a sea level rise of up to 12.5 inches by 2065 -- international migration trips for inhabitants of Kiribati and Tuvalu will increase by 35 percent and 100 percent, respectively, by 2055.
The question of where these people would migrate to remains largely unresolved. For instance, New Zealand recently dismissed a bid by a Kiribati resident who sought a climate change refugee status, and Europe, which is reeling under a massive refugee influx triggered by the conflict in Syria -- which was, at least in part, worsened by climate change-induced drought -- is ill-equipped to deal with more refugees.
"Without improved access to a comprehensive climate risk management strategy that includes options for mobility, a significant proportion of people from Nauru, Kiribati, and Tuvalu could be 'trapped' by worsening environmental conditions, declining local well-being and few opportunities to either migrate or generate income necessary for adapting," the report warned.
© Copyright IBTimes 2023. All rights reserved.