Climate Change Summit NYC: 'Flood Wall Street' Protesters Stage Sit-In At Charging Bull Ahead Of UN Session [VIDEO]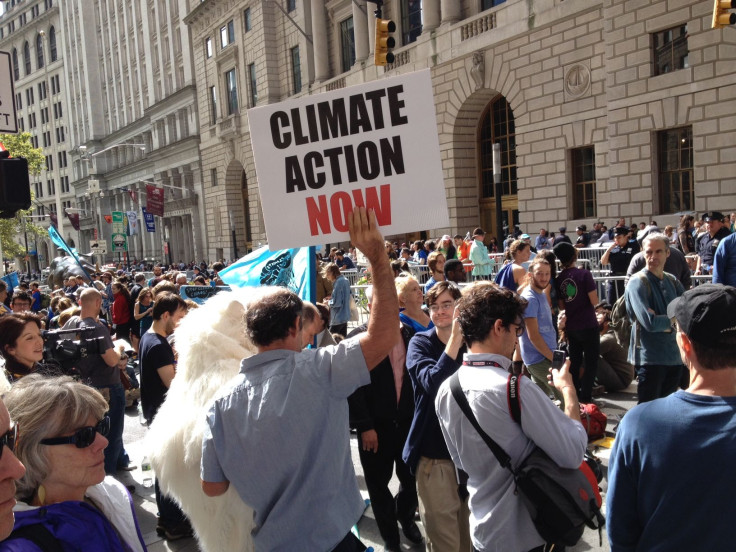 Hundreds of environmentalists stopped traffic in lower Manhattan Monday as they gathered at Wall Street to protest what they described as corporate America's hand in climate change. Police officers looked on as marchers in blue "Flood Wall Street" T-shirts blew whistles, played brass instruments, danced and scribbled "invest in solar" and "end corporate greed" messages on the street with chalk.
What may have looked at first glance like a kind of Occupy Wall Street 2.0 was, protesters said, something different. "I don't think it's going to be a long-term occupation," David Symons, a professional musician from New Orleans, told International Business Times. Monday's climate change rally, a guerilla-like sequel to Sunday's massive climate march through midtown Manhattan that included such high-profile climate activists as Al Gore and U.N. Secretary-General Ban Ki-moon, was relatively peaceful despite some brief excitement around 1:20 p.m. when several officers arrested a protester, Politico reported.
"This is a loose collection of people, it's not a specific group," Symons said. "[However], we all share common principles and common goals." He said Monday's protesters were motivated by what they see as the economic roots of climate change, "which is capitalism."
Symons defined the roots of the climate crisis as the pursuit of personal wealth over the "collective good." Protesters offered a variety of solutions for how to make the planet a more habitable place. Among them, ending fossil fuel consumption, investing in renewable energy sources like solar and wind, and cleaning up Earth's water sources.
"I'm a mom, and I think about my daughter and potential future grandchildren, and I have to say enough is enough," Diane Moxley, a public interest attorney from New Jersey who attended the protest with her 25-year-old daughter, Chelsea Moxley, told IBTimes. "I don't want to wait until we're at our tipping point."
Many environmentalists say the country has abandoned its pursuit of renewable energy sources, Diane Moxley explained. "I'm sure there's corporate interest in that," she said.
© Copyright IBTimes 2023. All rights reserved.