Climate Change: US, China Ratify Paris Agreement Ahead Of G-20 Summit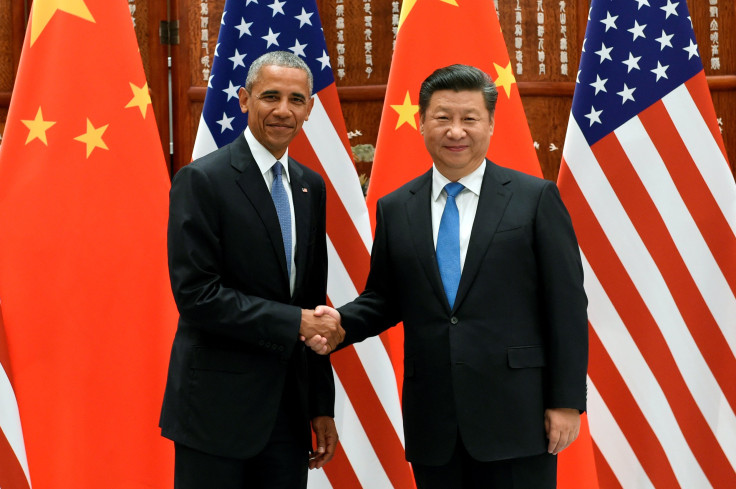 UPDATE: 6:00 a.m. EDT — The United States has joined China in formally ratifying the Paris climate agreement. Barack Obama, who arrived in China Saturday on the first leg of his final tour of Asia as president, and Chinese President Xi Jinping have now submitted their plans to join the agreement to United Nations Secretary-General Ban Ki-moon.
"This is not a fight that any one country no matter how powerful can take alone," Obama reportedly said during a press conference in Hangzhou. "Some day we may see this as the moment that we finally decided to save our planet."
The accord requires the participation of at least 55 countries, accounting for 55 percent of global greenhouse gas emissions. So far, including China and the U.S., 26 countries, accounting for almost 40 percent of global emissions, have joined in.
"The signal of the two large emitters taking this step together and taking it early, far earlier than people had anticipated a year ago, should give confidence to the global communities and to other countries that are working on their climate change plans, that they too can move quickly and will be part of a global effort," Senior Obama adviser Brian Deese told reporters.
Original story:
China, which, along with the United States, is responsible for nearly 40 percent of the world's carbon dioxide emissions, has ratified the climate agreement finalized in Paris last year. The ratification of the agreement — which requires China to peak its carbon emissions by 2030 — comes on the eve of the G-20 summit that begins in Hangzhou Sunday.
U.S. President Barack Obama, who arrives in China later on Saturday, is also expected to announce his formal adoption of the climate agreement.
"Ratifying the agreement accords with China's policy of actively dealing with climate change," a proposal on reviewing and ratifying the agreement, approved by Chinese lawmakers, reportedly said. "[The agreement will] further advance China's green, low-carbon development and safeguard environmental security."
The long-term goal of the climate agreement, drafted during the United Nations Climate Change Conference in Paris in December last year, is to keep the rise in average global temperatures "well below" 2 degrees Celsius (3.6 degrees Fahrenheit) above the pre-industrial levels and pursue efforts to keep it within 1.5 degrees Celsius (2.7 degrees Fahrenheit). However, given that global temperatures have already risen by almost 1 degree Celsius (1.8 degrees Fahrenheit), many now believe that the target is unlikely to be met.
Moreover, the agreement will only come into effect once at least 55 countries, accounting for 55 percent of global carbon emissions, ratify it. Before China's announcement, only 24 countries, responsible for just 1 percent of global emissions, had joined in.
In order to meet the aspirational goal, developed nations have pledged an absolute reduction in their emissions, while developing countries such as China and India have set deadlines to peak greenhouse gas emissions. The U.S., for instance, has pledged to slash its emissions by up to 28 percent of its 2005 levels by 2025, while China has promised to peak carbon dioxide emissions by 2030.
China's rise to the world's second-largest economy was largely fueled by cheap, dirty coal. However, as a recent slowdown in growth led to a government-planned shift from carbon-intensive heavy industry to services, the country's coal consumption dropped. Data shows that China's coal consumption fell 3.7 percent in 2015 compared to 2014 levels, even as the government ramped up installation of clean energy facilities.
Although an exact estimate of carbon dioxide emitted by China is hard to ascertain because of uncertainties and periodic revisions of official statistics, some scientists have argued that the country's emissions may already have peaked in 2014 — a year before it even announced its target.
If that is true, the 2030 deadline announced by China is essentially meaningless. As a result, many have urged Beijing to toughen its emissions reduction pledges.
"It has been argued that China is undergoing large-scale, rapid, and multidimensional changes in economic structure, with major implications for energy demand, at the same time as the energy supply is diversifying," the authors of a study published in the Climate Policy journal in March said. "Based on our analysis of likely future trends, we concluded that China's CO2 emissions from energy — if they grow at all — are likely to grow much more slowly than under the old economic model."
© Copyright IBTimes 2023. All rights reserved.
FOLLOW MORE IBT NEWS ON THE BELOW CHANNELS