Clinton In Saudi Arabia To Seek Unified Strategy On Syria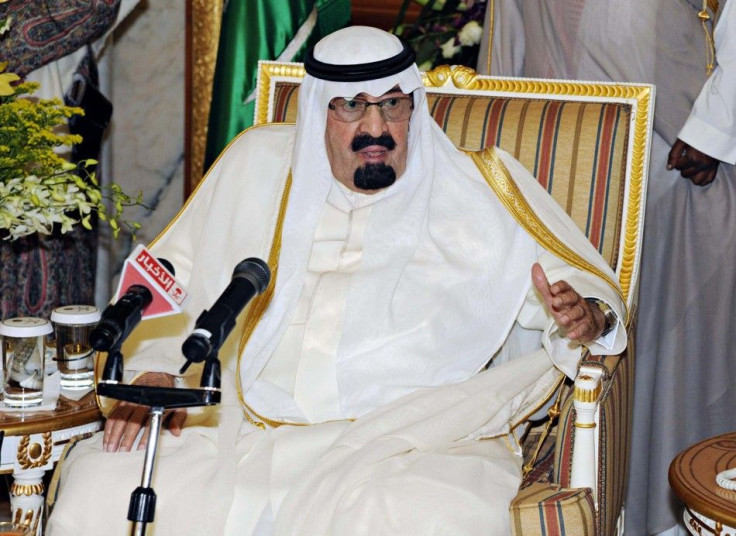 U.S. Secretary of State Hillary Clinton met in Saudi Arabia with King Abdullah on Friday to discuss the crisis in Syria and explore ways to end President Bashar al-Assad's brutal crackdown on rebels.
Several top Saudi officials, including Defense Minister Salman bin Abdul Aziz, Foreign Affairs Minister Saudi al-Faisal and intelligence chief Mogran bin Abdul Aziz, also took part in the meeting, Agence France-Presse reported, though details of their talks weren't available.
Clinton will hold extensive talks with Saudi counterparts on the situation in Syria and on American efforts to stop [the] bloodbath in Syria, a foreign ministry official in the Saudi capital, Riyadh, was quoted as saying by the Associated Press.
Clinton was also scheduled to meet with ministers from other Gulf states -- Bahrain, Kuwait, Oman, Qatar and the United Arab Emirates – on Saturday, before heading to Istanbul on Sunday to confer with Turkish, Arab and Western officials, according to AFP.
In Turkey, Clinton also will confer with Syrian opposition leaders on possible additional sanctions against Assad and aid to the dissidents. Turkey, once an ally of Assad, has withdrawn its diplomats in Syria and accepted thousands of Syrian refugees crossing its border.
The crisis shows no signsof easing, even after Assad agreed to a six-point peace plan proposed by special United Nations and Arab League envoy Kofi Annan. Russia and China, two of Assad's most powerful allies, even endorsed Annan's proposals.
Annan, a former U.N. secretary general, has demanded that Syrian regime implement the peace plan immediately.
The government must stop first and then discuss a cessation of hostilities with the other side, Ahmad Fawzi, a spokesman for Annan, said Friday. We are appealing to the stronger party to make a gesture of good faith. ... The deadline is now. Clearly, we have not seen a cessation of hostilities and this is of great concern."
Saudi Arabia has called on Assad to resign and is leading a movement in the region to pressure his regime to end the crackdown. At least 9,000 people have been killed since the rebel uprising began in March 2011, according to U.N. estimates. The Saudis and Qatar advocate supplying weapons to Syrian opposition groups, although some Arab states, including Iraq, warn that this would lead to a civil war in Syria.
Assad has repeatedly blamed "terrorists" and "armed gangs" for the violence, and called on foreign powers to stop helping the rebels.
It's not surprising, but it's discouraging and disappointing, Mark Toner, a spokesman for the U.S. State Department, said in response to Assad's failure to end the crackdown. We've seen absolutely nothing on the ground that indicates that they're adhering to its calls for Syrian artillery and heavy weaponry to go back to barracks and for a cease-ire to allow humanitarian assistance to be put in place."
© Copyright IBTimes 2023. All rights reserved.