Hugo Chavez In Cuba For Radiotherapy, Stay Coincides With Pope's Visit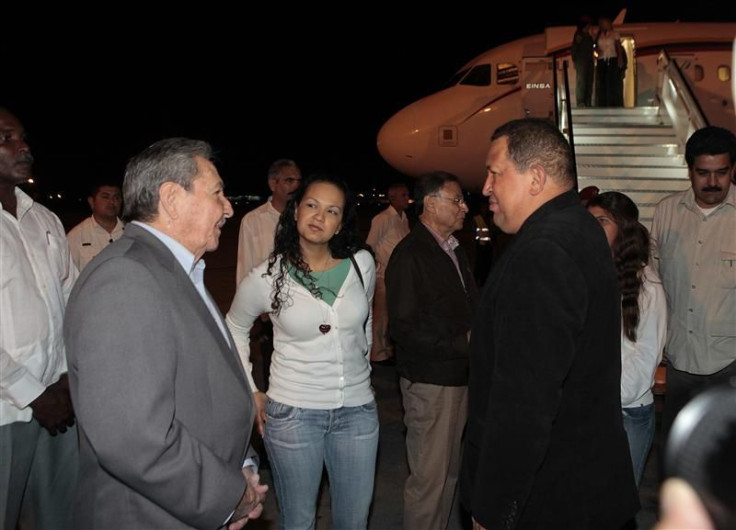 Venezuelan President Hugo Chavez Saturday returned to Cuba to resume radio therapy for his cancer.
Chavez had undergone surgeries twice in Cuba to remove two different malignant tumors from his pelvic area. The first surgery was conducted eight months ago to remove the cancerous tumor, but the tumor reappeared in the same post necessitating a second surgery conducted Feb 26.
The treatment is expected to start Sunday and it is not clear how long he will stay in Cuba this time. However, Chavez indicated that the therapy sessions will be extended to four or five weeks, according to a report in El Universal newspaper.
Chavez said that he was recovering from the surgery fast and the radio therapy session complements the surgery. Yesterday, they took out the last stitches that were left from the operation. Everything's very good. I've been walking much better. Without any sort of complication, thanks to God, he said in a televised interview, according to an El Universal news paper report.
Now, a month after the operation, we're ready for radiation therapy, which will last about four, five weeks, he added.
Chavez indicated that he might need multiple sessions of radio therapy and will have to keep on coming and going for the same. He said that the doctors were checking out the possibility of conducting a few of the radio therapy sessions in Venezuela.
Interestingly, Chavez's visit coincides with Pope Benedict XVI's Cuba visit. The Pope will travel to Cuba from Mexico where he is currently in a three-day visit. It is not clear whether Chavez will be meeting the Catholic Church head and he did not make any references to the Pope's Havana visit.
Though Chavez claims that he is a Christian, he has very close ties with the Cuban communist regime and also has a history of being at loggerheads with the Venezuelan church leaders.
Chavez is running for re-election this year and is in a neck in neck fight with his major rival opposition leader Henrique Capriles, according to the recent opinion polls. He has been repeatedly asserting that he is healthy and his illness would not hinder him from discharging his responsibilities.
However, Capriles and other opposition members have demanded Chavez to release complete details about his health status.
© Copyright IBTimes 2023. All rights reserved.