Coal's Darkest Hour: Fitch Warns Of Increased Bankruptcy Possibilities In US Coal Sector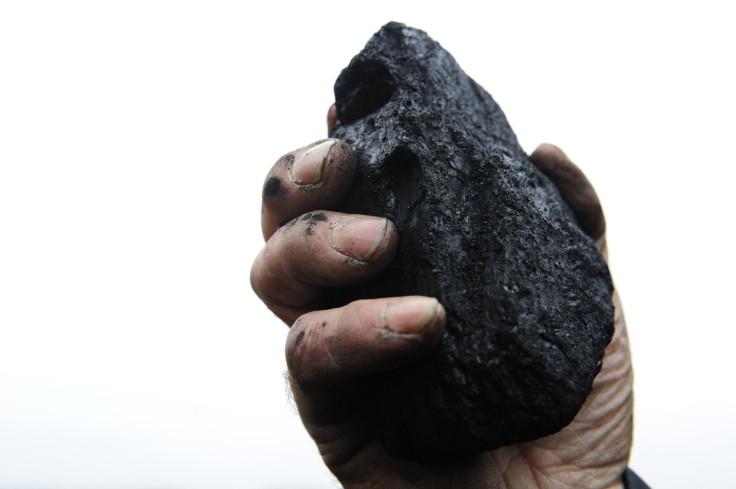 U.S. coal companies have been hit hard by a decline in demand, arising in part from competition from cheap natural gas and a weaker economy. They have also blamed tougher environmental rules for rising costs.
The deep commodity pricing trough and demand destruction could lead to one or more bankruptcy filings in the domestic coal industry, the Fitch credit ratings agency warned on Wednesday.
"Two coal producers (James River Coal Corp. and Xinergy Corp.) have significant default risk based on the secondary market trading prices of their securities," Fitch said in a report, adding that it has an overall negative outlook for the coal industry this year.
Since 1994, there have been 11 mining company defaults among producers with least $25 million in assets as of their bankruptcy filing date. Patriot Coal Corp., which filed for bankruptcy in 2012, was more than 11 times the size (in terms of assets) of the next largest defaulted coal company.
The most recent coal company bankruptcy filing, America West Resources Inc., occurred on Feb. 1, 2013.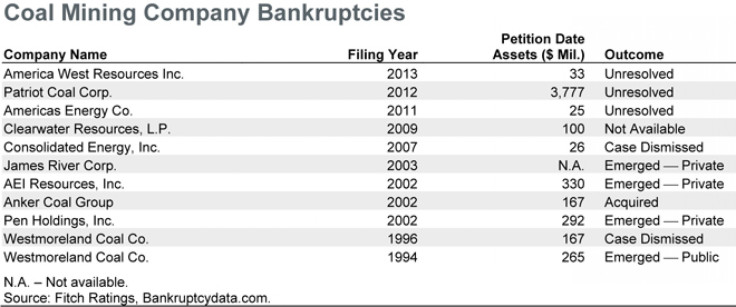 In 1985 coal accounted for 57 percent of all power generated in the U.S. That figure fell to 37.2 percent in 2012, according to the latest data from the U.S. Energy Information Administration's Electric Power Monthly. Electricity generation from natural gas increased from 24.6 percent to 30.8 percent over the same time.
U.S. coal production, down almost 7 percent, fell almost everywhere. Central Appalachia production decreased significantly, by 16 percent, followed by a 9 percent production decline in Powder River Basins.
And more trouble lies ahead. A number of old, relatively dirty coal-fired plants are scheduled to be shut down by the end of 2014 to comply with regulations from the Environmental Protection Agency.
Arch Coal Inc. (NYSE: ACI), one of the world's largest coal producers, reported on Tuesday a fourth consecutive quarterly adjusted loss after sales volumes declined 15 percent on weaker demand.
Arch sells thermal coal, which is used to generate electricity, and metallurgical coal, a steelmaking raw material. Domestic thermal coal demand tumbled last year amid mild weather and as prices for natural gas, a competing fuel, dropped to the lowest point in a decade.
"2012 could well prove to be at the trough," Arch's Chief Executive John Eaves said on the earnings conference call. "Global benchmark metallurgical prices declined 50 percent since their peak a year-and-a-half ago while U.S. thermal coal consumption declined to levels we haven't seen since the mid-90s."
"Needed economic activity, unseasonably warm weather and low natural gas prices ... dampen coal demand, causing coal stockpiles to grow to near record levels by May of last year," Eaves added.
According to Fitch, some coal companies are doing somewhat better than their peers.
Companies that are managing their way through the down cycle with limited default risk include: CONSOL Energy Inc. (NYSE:CNX), Peabody Energy Corp. (NYSE:BTU) and Cloud Peak Energy Inc. (NYSE:CLD).
Shares of Arch Coal Inc. (NYSE:ACI) rose 1.52 percent to $6.13 in Wednesday's midday trading.
© Copyright IBTimes 2022. All rights reserved.
FOLLOW MORE IBT NEWS ON THE BELOW CHANNELS