King Coal Has Lost Crown To Natural Gas, Despite Price Decline Forecast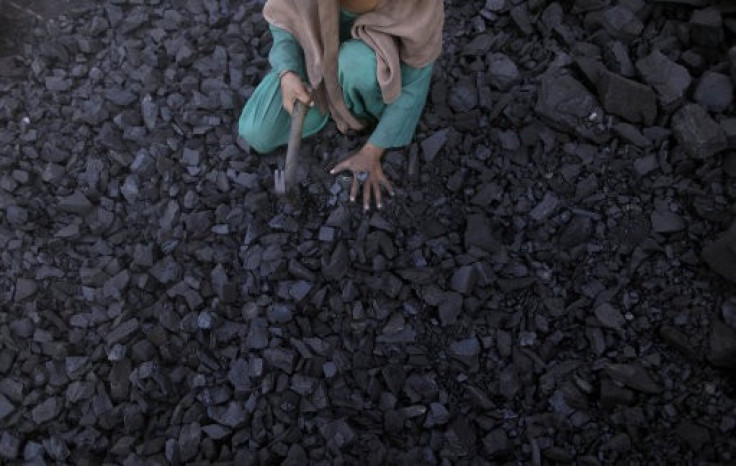 While coal has powered the 19th-century Industrial Revolution, heated homes and generated electricity, the era of King Coal has come to an end.
In the last five years, the fuel mix of the U.S. electric power sector has undergone a dramatic shift away from coal and to natural gas, as natural gas prices have plummeted to record-low levels.
The share of electricity generated by burning coal in the U.S. has fallen in March (most recent data available) to 34 percent -- the lowest level since the government began collecting data in 1949. Meanwhile, natural gas-fired generation jumped 40 percent from the same month in 2011 and accounted for almost one-third of electricity generation.
Five years earlier, coal captured 50 percent of net generation and natural gas was little more than 20 percent. The Energy Information Administration (EIA) projects by 2030, natural gas will take over almost half of the national fuel mix.
The switch in fuel mix is here to stay and probably it's here to stay for a long time, said Rick Scott, senior managing director of L&S Advisors Inc.
A number of factors are driving the coal-to-natural gas switch, such as huge supply of gas, U.S. Environmental Protection Agency air rules and a variety of other factors that don't change quickly, said Sean Moran, co-chair of the energy practice at Buchanan Ingersoll & Rooney PC.
Coal prices have been declining this year -- U.S. benchmark central Appalachian thermal coal prices fell from near $70 a metric ton at the start of this year to around $54 a metric ton recently. Economists expect further declines in coal prices.
However, even if coal prices were to nosedive, power generation companies are unlikely to turn back to using coal.
The decisions being made by power generation companies are large capital-type-related decisions that are going to be hard to quickly switch back, Moran said. It will be really, really difficult to change the trend.
Coal plants are struggling to keep the lights on as utilities switch to cleaner and cheaper alternatives.
The latest setback came Thursday as Arch Coal Inc. (NYSE: ACI), one of the world's largest coal producers, said it would lay off about 750 workers in the Kentucky, Virginia and West Virginia coalfields. Arch said the reductions would trim its thermal coal production by more than 3 million tons annually.
Current market pressures and a challenging regulatory environment have pushed coal consumption in the United States to a 20-year low, Arch President and Chief Executive Officer John W. Eaves said in a statement.
As a result of declines in coal consumption by electric power plants, March coal stockpiles were about 196 million short tons, almost 18 percent above the level in March 2011 and also above the five-year range.
Meanwhile, the U.S. shale boom - featuring drillers using horizontal drilling and hydraulic fracturing to release the fuel from previously uneconomic shale rocks -- has pushed natural gas markets to a 10-year low of $1.90 million British thermal units on April 19, as new supplies overwhelm consumption.
Natural gas for July delivery at Henry Hub in Louisiana, the futures pricing point, closed Thursday at $2.48 per million British thermal units. While the price has rebounded somewhat, it's still considered very cheap.
In the past, when the price of natural gas declined, making it seem like a more economically cost-effective way to go than coal, utilities always had in the back of their minds that these price fluctuations generally have been temporary.
It could be due to weather. Natural gas prices could fall because of mild temperatures.
Power generation companies were reluctant to make the switch back then because they fear that as soon as they shift away from coal and to natural gas, if a very cold winter hits, then natural gas price would go back up.
To make the change is not as simple as turning on a light switch or water faucet, Scott, of L&S Advisors Inc., said. There's downtime and there's cost.
This time, however, is different.
Today is truly different, Scott said, referring to the long-term advantages natural gas has over coal, which includes abundant supply, cheap price, and fewer emissions of toxic chemicals and gases that contribute to climate change.
There really is a glut of natural gas out there as far the eye can see, given the tremendous production and exploration that's going on here in the U.S., Scott said.
Between 2005 and 2010, the U.S. shale-gas industry grew at an amazing rate of 45 percent a year. As a proportion of America's overall gas production, shale gas has increased from 4 percent in 2005 to 24 percent today.
Power plants that burn coal produce more than 90 times as much sulfur dioxide (which causes acid rain), five times as much nitrogen oxide (causes smog) and twice as much carbon dioxide (causes global warming) as those that run on natural gas, according to the Government Accountability Office, the regulatory arm of Congress.
This is an opportune time to switch from coal to natural gas.
The EPA has enacted a pair of clean-air rules over the past year that tightened limits on power-plant emissions of sulfur dioxide and nitrogen dioxide, and place new limits on mercury, a poison found in coal. In what could be an even bigger environmental blow to coal, the EPA in March issued guidelines that could limit greenhouse gas emissions from new power plants.
While power generation companies take advantage of the price difference, they at the same time also satisfy a lot of the environmental people, satisfy regulatory agencies and satisfy the administration to a certain extent, Scott said.
While there will be some periodic price fluctuations in natural gas, Scott expects it could very easily fall below $2 again.
And even if coal prices become ultra-cheap, as long as natural gas stays at the level it is today or lower, lower coal prices won't necessarily outweigh all the other negatives that go along with it.
There would be no incentives for utility companies to switch back to coal, as long as natural gas prices remain at these levels or even lower, irrespective of what the price of coal does, Scott said.
Share prices of leading U.S. thermal coal miners, including Consol Energy Inc. (NYSE: CNX), Alpha Natural Resources (NYSE: ANR) and Arch Coal Inc. (NYSE: ACI) have all fallen significantly so far this year, with the latter two losing more than half of their value, respectively.
Year-to-date, shares of major natural gas producers, including Chesapeake Energy Corporation (NYSE: CHK), Chevron Corporation (NYSE: CVX) and ConocoPhillips (NYSE:COP) have declined 18 percent, 6 percent and 27 percent, respectively.
© Copyright IBTimes 2023. All rights reserved.