Cold Snap Boosts Commodity Prices, From Orange Juice To Cattle To Natural Gas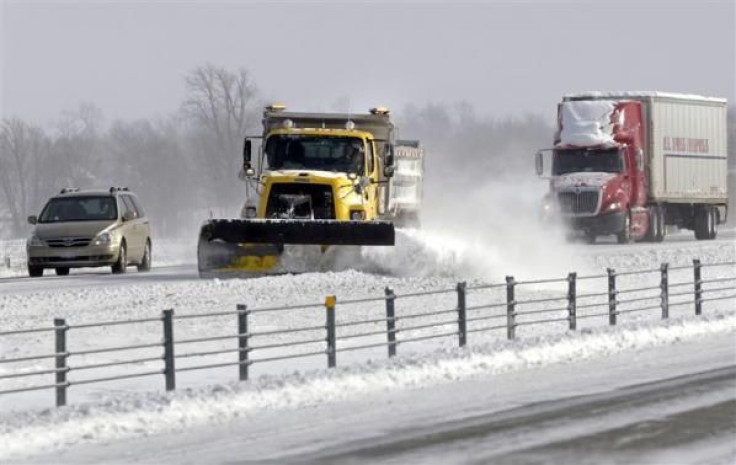 A severe U.S. cold snap is lifting up commodity markets almost across the board, boosting wheat, natural gas, and cattle futures, as East Coast weather worsened on Tuesday.

The lowest temperatures in decades will damage agricultural crops and mean cattle are tougher to transport and keep warm. Consumers are likely to burn more natural gas to keep homes warm.

Wheat futures hit their highest since Dec. 23 on the Chicago Board of Trade on Monday, before trading at $6.08 per bushel on Tuesday. Cattle futures hit $1.371 per pound on Tuesday, their highest since 1964 and a new record. Natural gas prices reached records of $90 per million British thermal unit at key pipeline trading hubs, the Wall Street Journal reported.
Up to 15 percent of winter wheat plants in the U.S. Great Plains, a vertical swathe of several states in the middle of the country, could be damaged, agricultural meteorologist Kyle Tapley told Bloomberg. About 90 percent of the contiguous U.S. will be freezing or below, according to the U.S. Weather Prediction Center in Maryland, while farmers have been alerted to freeze watches by the government.

"We haven't seen these types of temperatures in 20 years, and the market is uncertain of the eventual impact on yields," Prime Agricultural Consultants Inc. president Chad Henderson told Bloomberg.

Orange juice, too, has benefited, as frost in Florida may hurt crops. That's on the back of a 19 percent gain in 2013 for orange juice futures, after crop diseases undermined initial supply expectations. The USDA has forecast that Florida's current crop, the second largest in the world after Brazil, could be the smallest in 24 years.

"Very aggressive" supply forecasts for wheat and corn in 2014 may be affected by the cold weather, ETF Securities investment strategist Nick Brooks told International Business Times. The U.S. Department of Agriculture is set to update its agricultural supply-and-demand data on Friday, releasing estimates for corn, soybeans and other grain production.

Wheat also saw gains thanks to large orders from Egypt, the world's largest wheat importer, over the weekend, according to the Wall Street Journal. That could boost wheat's outlook for 2014, after it suffered a 22 percent drop in prices in 2013.

Natural gas has been up more than 20 percent since November 2013, as traders anticipated frosty weather. February gas futures settled at $4.306/mmBTu on New York's NYMEX on Monday. If inventories are depleted, prices could drop lower.

Large inflows into natural gas exchange-traded products were seen in the past few weeks as prices spiked, according to ETF Securities' Brooks. "I wouldn't be surprised if natural gas stays at current levels or goes a bit higher," he said.

Natural gas prices hit a 2 and a half year high on Dec. 23, thanks to the colder weather, according to commodities analyst Edward Meir. Prices could hit $4.5 to $4.6/mmBTu later this month, but it'll be tough to break past that threshold, he said.

"There has been a significant deterioration in natural gas inventory levels compared to this time last year," he said, with U.S. stockpiles down 13 percent from last year.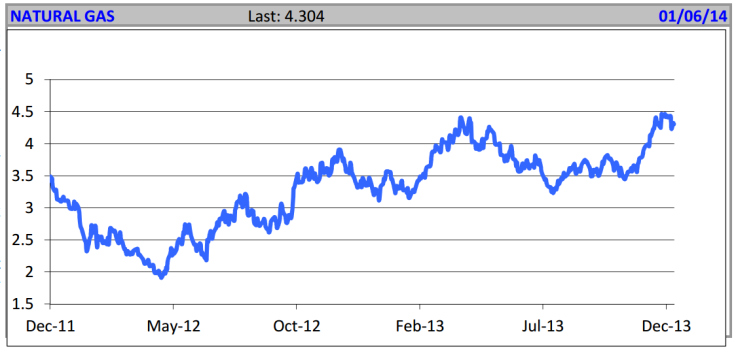 Temperatures fell as low as -18 Fahrenheit in some northern parts of the U.S. on Tuesday. Temperatures were the lowest they'd been in two decades for the central regions of the United States. Movements of grain and livestock across the U.S. were also affected by the cold spell.

A much colder winter may even impact job creation and other economic data, according to a Goldman Sachs Group Inc. (NYSE:GS) note from Monday. Less employment in construction sectors, for instance, could push down payroll numbers.

"We expect that colder-than-normal weather during the survey period for the December payroll report probably pushed employment growth below its recent trend," wrote Goldman analysts in a Monday note. They project 175,000 in gains for total payrolls, in data due Friday.

"The recent snowstorm affected in the Northeast and Midwest -- which occurred early in the month -- will probably have only a modest effect on January payrolls … Ultimately, whether or not distortions to the data are significant this year depends on whether winter temperatures return to more normal historical levels … as forecast earlier in the season, or are significantly colder-than-expected on an outright basis."
FOLLOW MORE IBT NEWS ON THE BELOW CHANNELS