Colombia Halts US-Backed Aerial Coca Eradication Program, Citing Dangers Of Herbicide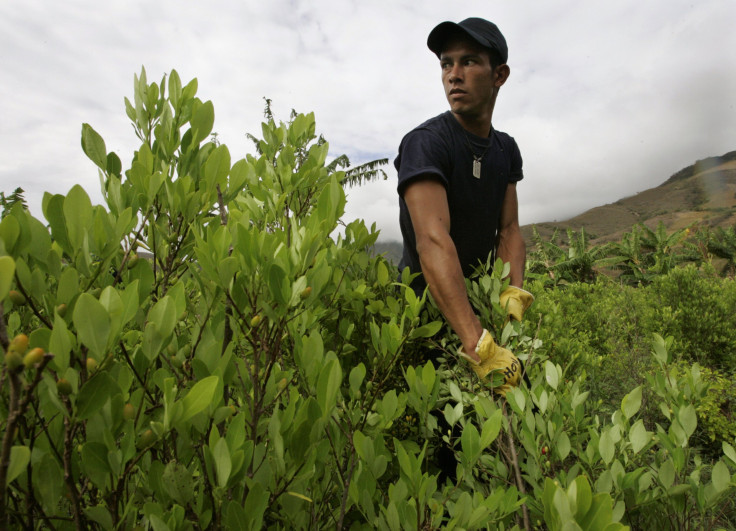 Colombia has suspended its aerial coca eradication program, a key part of the U.S.-backed antidrug effort there, responding to rising concerns that the herbicide sprayed on the crops threatens people's health.
Colombia's narcotics council voted 7-1 to halt the program Thursday evening, a move urged by President Juan Manuel Santos and the Health Ministry. The president said Colombia would find other ways of eradicating illicit coca plantations presumably used for the production of cocaine.
The recommendations followed a March report by the World Health Organization's International Agency on Research in Cancer that said the chemical used in the program, glyphosate, was "probably carcinogenic to humans" and had likely caused tumors in laboratory mice. Monsanto, the U.S. firm that developed glyphosate, pushed back against the findings, and its chief technology officer, Dr. Robb Fraley, accused the researchers of "agenda-driven bias." The use of glyphosate was being questioned long before the report, with opponents saying the chemical has harmful environmental effects, damages legal crops and livelihoods of poor farmers, causes a range of health problems for people subjected to the fumes and does little to deter illegal coca cultivation.
Thursday's decision affects only the use of glyphosate in the aerial eradication of illegal coca crops. It doesn't change the chemical's more common agricultural use as a weed killer for commercial crops.
Glyphosate had been sprayed over an estimated 4 million acres in Colombia since the 1990s. Colombia is the only country with coca production that destroys the crops by aerial spraying. In neighboring Peru and Bolivia, where coca cultivation is also prevalent, authorities destroy the crops manually.
U.S. officials, who work closely with Colombia's government to combat illegal drug trafficking and production, have defended the aerial spraying program and warned that ending it could boost the production of cocaine. Earlier this year the White House released a report saying the amount of land used for coca cultivation in Colombia surged by 39 percent in 2014. Kevin Whitaker, the U.S. ambassador to Colombia, penned an op-ed in Colombia's El Tiempo last week saying the program was the most "effective and safe means to eliminate coca," but said regardless of the decision the U.S. would continue to work closely with Colombia in antidrug efforts.
© Copyright IBTimes 2023. All rights reserved.