Colombian Coca Production Falls 25 Percent; Peru Spikes To Number 1 In The World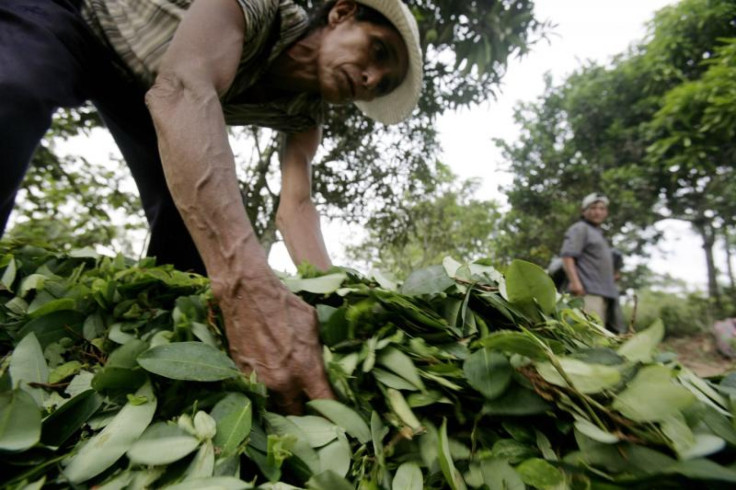 An empire falling? As the United Nations Office on Drugs and Crime, or UNODC, reported, Colombia, traditionally the largest producer of coca leaf and cocaine in the world, managed to reduced its illicit plantations by 25 percent in a year, from 64,000 hectares (158,000 acres) in 2011 to 48,000 hectares (118,000 acres) in 2012.
Similarly, cocaine production dropped by 10 percent in Colombia. Of the 785 metric tons of the (estimated) cocaine produced in the world, Colombia accounted for 309, down from 345 in 2011. According to the institution's estimations, this reduction might mean that Colombia is no longer the world's top producer, leaving the No. 1 position to a neighbor: Peru.
UNODC reported that this decrease is the most significant since the agency started monitoring the coca production in 1999. Before that, it took the country six years to go from 140,000 hectares (345,000 acres) in 2001 to 99,000 (244,000 acres) in 2007 -- a decrease of 29 percent.
The report points out that one of the main reasons is effective policy by President Juan Manuel Santos' government, which dates back to President Álvaro Uribe's days. Another reason, perhaps more significant, is the switch in tactics from drug traffickers. Traditional coca producers are turning to illegal mining as a way of funding drug trafficking and money laundering. "Sustainability of reduction depends entirely on local communities finding viable legal ways," read the report.
The reduction was notable in 20 of the 23 coca-producing provinces in Colombia, with only Norte de Santander, Caquetá and Chocó seeing increases in production.
Among the provinces that saw a reduction, Nariño and Putumayo, on the border with Ecuador, concentrate half of the country's coca production, despite a decrease by 10,000 hectares (25,000 acres) of cultivated fields. The production is linked to the presence of paramilitary groups like the Revolutionary Armed Forces of Colombia, commonly known as FARC.
Colombian authorities also seized 188 tons of pure cocaine, 32 more than 2011.
The UN also said that in 2012 Colombia was not the top producer of cocaine in the world for the first time in almost 20 years. Although the numbers are not yet out -- the UNODC report will come out in September -- UN experts point at Peru as the top cocaine producer. In 2011, Peru's cocaine crop occupied 62,500 hectares, and although the report expects a reduction, experts do not believe it will be as major as Colombia's.
Peru's cocaine is marketed almost exclusively to Brazil, Argentina and Europe, while Colombia's biggest buyer is still the United States.
Bolivia, the third largest coca producer, had 23,500 hectares of coca crops in 2011. A reduction, less significant than Colombia's or Peru's, is also expected.
© Copyright IBTimes 2023. All rights reserved.