Commodities Prices Likely To Fall: Credit Suisse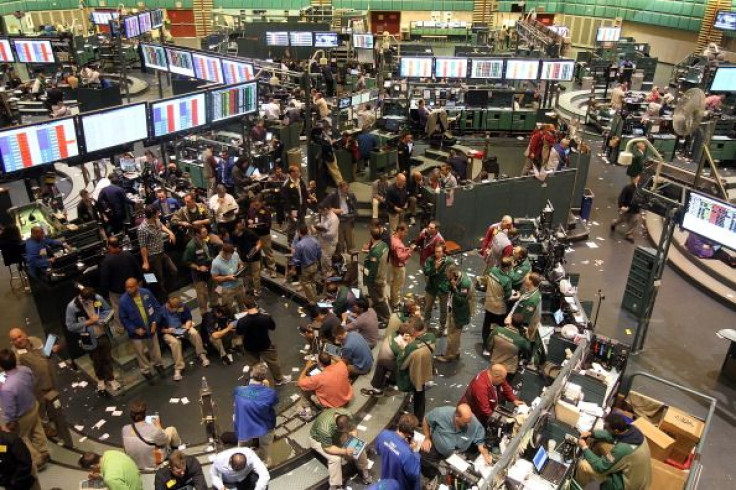 A peak in global industrial production is likely to place downward pressure on industrial commodity and gold prices for the foreseeable future, according to a Credit Suisse Group AG (VTX:CSGN) research note released on Tuesday.

In particular, Chinese industrial production has peaked, with a potential modest slowdown expected in the coming months. That could drag down prices for industrial metals like copper and iron ore, as Chinese exports have also stagnated.

"As we enter November, it is becoming increasingly clear that the next big move is likely to be down, as the strongest rebound in global industrial production seen since Q4 2011 peaks," Credit Suisse analysts wrote last week. "While oil prices have already begun to correct, we feel that most basic material prices will also fall over the coming month or two.".
They suggested shorting some industrial metals indexes, and that investors should consider betting on falling commodity prices.

Oddly, they wrote, commodity prices have failed to rally despite stronger demand.

"We think that EM weakness and increasing supply has acted to mute the impact of the developed world rebound on commodities," the bank analysts wrote. They added that many basic material prices may have peaked.
Last week, commodities performed especially poorly, led by sharp declines in silver and U.S. natural gas.

Strong supplies of major grains and soybeans, combined with weak demand, are likely to drag agricultural commodity prices further down, London's Capital Economics wrote in a note on Monday.

Although they don't expect any abrupt price falls, ample supply will likely bring prices down gradually, driven partly by bumper U.S. harvests.

"We expect demand for grains, especially corn, to be subdued over the next year," they wrote.

Base metals investors are watching a key ongoing meeting of the Chinese Communist Party, according to metals analyst Edward Meir on Tuesday, and they will react to reform proposals coming out of that meeting.

Here's a chart of commodity prices for the year to date, from the latest Credit Suisse note.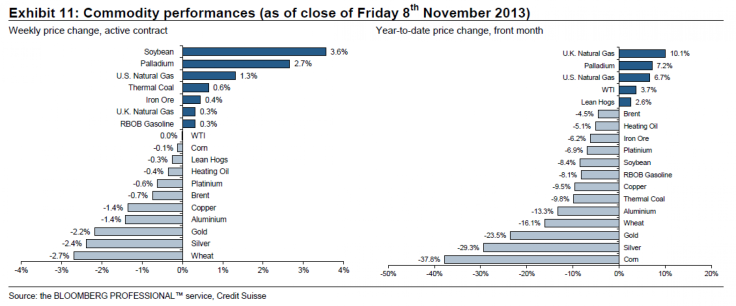 © Copyright IBTimes 2023. All rights reserved.
FOLLOW MORE IBT NEWS ON THE BELOW CHANNELS