Asma Al Assad: Video, Petition Beg 'Desert Rose' To Stand Up For Syria [WATCH]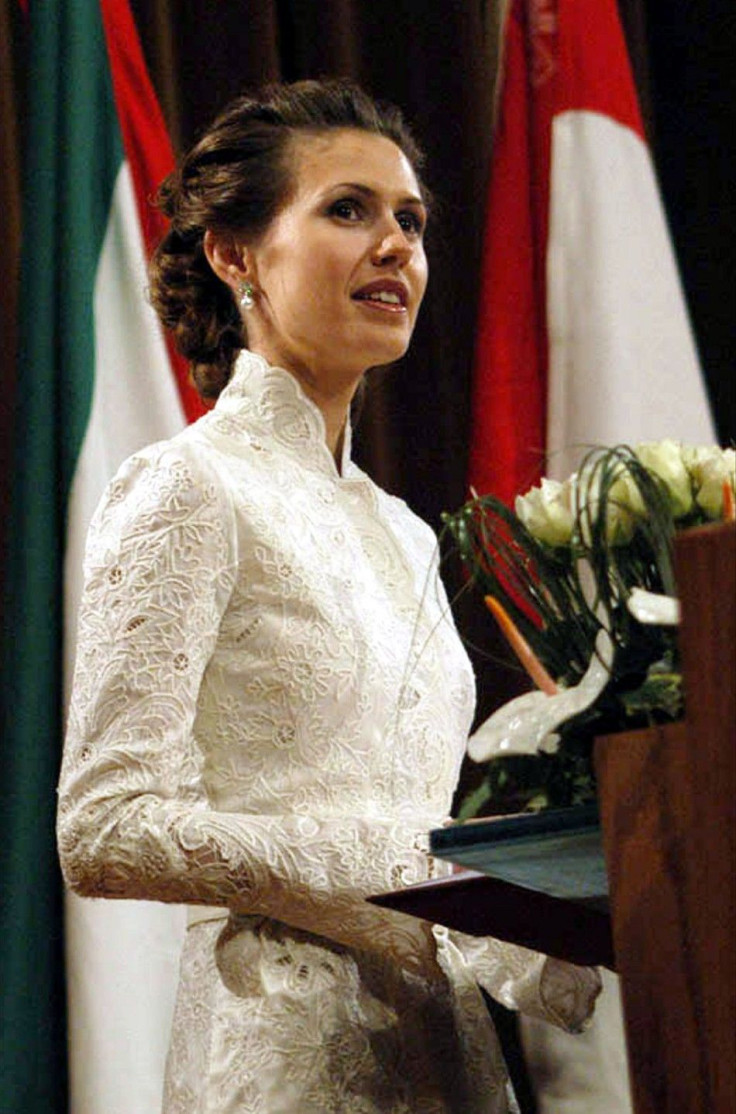 Asma al Assad is the intended target of a video posted Tuesday on YouTube, as well as an accompanying petition on Change.org. The video urges Asma al Assad, wife of Syrian President Bashar al Assad, to stop being a bystander in the ongoing massacre of Syrian rebels across the country.
Images in the video contrast Asma al Assad's luxurious lifestyle with graphic images of injured Syrians, including bloodied women and children.
The four-minute plea was produced by Sheila Lyall Grant, the wife of Britain's envoy to the United Nations, and Huberta von Voss-Wittig, who is married to Germany's ambassador.
We strongly believe in Asma's responsibility as a woman, as a wife and as a mother. As the vocal female Arab leader that she used to be, as a champion of female equality, she can not hide behind her husband, said the women in a statement.
The Syrian first lady has been referred to as a 'desert rose' and was hailed as a style icon before her husband's regime became notorious for enforcing brutal crackdowns on Syrian rebels. She was born and educated in the United Kingdom and worked as an investment banker before marrying Syrian President Bashar al Assad in 2000.
Last month, email correspondences between Bashar al Assad, Asma al Assad and others were obtained and leaked by The Guardian. They revealed that Asma al Assad was an avid online shopper, spending tens of thousands of dollars on luxury items, including jewelry, clothes and home decorations, while violence raged across the country. Exchanges between the president and first lady were lighthearted and affectionate, suggesting an appalling distance from the suffering endured by thousands of Syrians beyond the palace walls.
Some reports estimate that the death toll in Syria has surpassed 11,100 since anti-government uprisings began in March of 2011. President al Assad has referred to opposition forces as guerillas and terrorists in order to justify his effort to crush the rebellion. But the situation has continued to escalate, inviting worldwide condemnation. Even Syrian former allies including Russia, China, and Lebanon's Hezbollah have called for the regime to seek a peaceful resolution to the bloody conflict.
As part of a six-point proposal for peace advanced by Kofi Annan, who is acting as an envoy for the United Nations and Arab League, a small team of UN monitors are currently in Syria; a total of 250 are expected to arrive in coming weeks. The nominal ceasefire, which was tenuously implemented on April 12, has been countered by several reports of new violence, including shelling in several neighborhoods in Homs on Wednesday, according to the Syrian Observatory for Human rights.
Bashar al Assad has not yet hinted at any intention to step down, and the proposal put forth by Annan does not call for him to do so.
This video for Asma al Assad represents one more international effort to convince the regime to comply with demands for peace. The narration is transcribed below. Readers can add their signature to the global petition online.
Video Narration:
This is a letter to Asma al Assad, signed by women all over the world.
Dear Asma: Some women care for style, and some women care for their people. Some women struggle for their image, and some women struggle for survival. Some women have forgotten what they preached about peace.
[Asma:] We all deserve the same thing. We should all be able to live in peace, stability and with our dignities.
And some women can only pray for their dead. Some women pretend to have no choice, and some women just act. What happened to you, Asma? Hundreds of Syrian children have already been killed and injured. One day our children will ask us what we have done to stop this bloodshed. What will your answer be, Asma? That you, Asma, had no choice? What about this boy, where was his choice? Each single child had a name and a family. Their lives will never be the same again.
Asma, when you kiss your own children goodnight, another mother will find the place next to her empty. These children could all be your children. They are your children. Stand up for peace, Asma. Speak out now. For the sake of your people, stop your husband and his supporters. Stop being a bystander. No one cares about your image. We care about your action. Right now.
FOR FREE to continue reading
✔️ Unlock the full content of International Business Times UK for free
offer available for a limited time only
✔️ Easily manage your Newsletters subscriptions and save your favourite articles
✔️ No payment method required
Already have an account?
Log in
© Copyright IBTimes 2023. All rights reserved.