Conflict Minerals Enter US Unchecked, Hidden By 'Blind Spots' In Supply Chains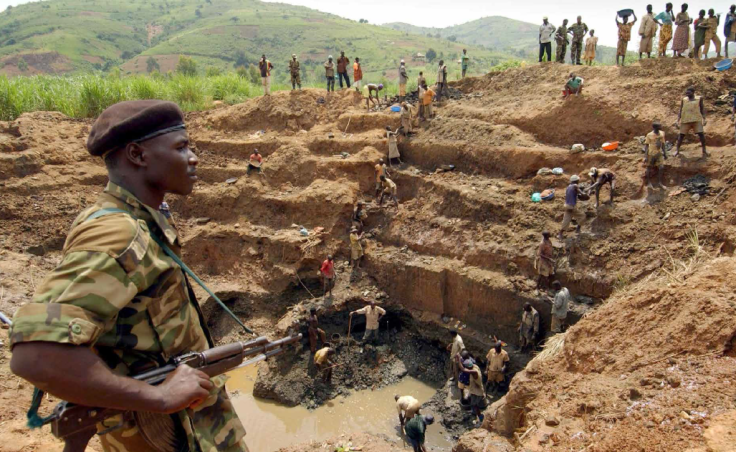 Nearly 80 percent of American companies are failing to adequately check their supply chain for "conflict minerals," which are sourced from war-torn regions in Central Africa, according to a new report by Amnesty International and Global Witness. A survey of 100 U.S. firms published in the report, titled "Digging for Transparency," reveals that only 21 percent of companies are adhering to U.S. laws prohibiting the use of conflict minerals.
Under current U.S. law -- specifically, Section 1502 of the Dodd-Frank Wall Street Reform and Consumer Protection Act of 2010 -- companies listed on U.S. stock exchanges have to check if their mineral purchases are funding warring factions in the "Democratic Republic of the Congo or an adjoining country," and report on their findings. Congo, which is still recovering from decades of proxy war with Rwanda, is an important source of minerals, including gold, tin, tungsten and tantalum.
"The conflict minerals law is an opportunity to clean up global mineral supply chains. But our analysis shows that most companies seem to prefer business-as-usual to genuinely addressing the risk that their mineral purchases bankroll armed groups overseas," Carly Oboth, a policy adviser at Global Witness, said, in a statement.
These minerals are essential for the manufacture of several electronic devices, such as smartphones and laptops. It is believed that rival militias and warlords in the region have, for decades, exploited the mining industry for these "conflict minerals" to fund their operations.
According to the report, most companies are not doing enough to map out the supply chain of the minerals they purchase. Only 16 percent go beyond their direct suppliers to contact, or even attempt to contact, the smelters or refiners that process these minerals. Only one company -- Boeing -- in the sample surveyed, provided specific information about the mine of origin for some of the minerals in its products. The report, however, stopped short of naming the companies that did not meet the requirements.
"Most of America's biggest corporations have blind spots in their supply chains -- leaving them oblivious to whether the products they sell contain minerals that have funded conflict," Denis Mukwege, a doctor who founded the Panzi Hospital in Bukavu, Democratic Republic of the Congo, said, in a foreword to the report.
In order to fill the "alarming gaps in U.S. corporate transparency," the report recommended that companies not only directly engage with smelters and refiners, but also undertake independent audits. In addition, it also urged the U.S. Securities and Exchange Commission to penalize, from 2016 onward, any company that files incomplete, false or misleading reports.
"Consumers want to know what lies behind the logo. Companies are under pressure to show they leave no stone unturned in their efforts to make sure products on the shelf don't hide a terrible story of conflict and human rights abuse. A box-ticking exercise just won't cut it," James Lynch from Amnesty International, said, in the statement.
© Copyright IBTimes 2022. All rights reserved.
FOLLOW MORE IBT NEWS ON THE BELOW CHANNELS