Congress Shouldn't Sidestep Islamic State Measure, White House Says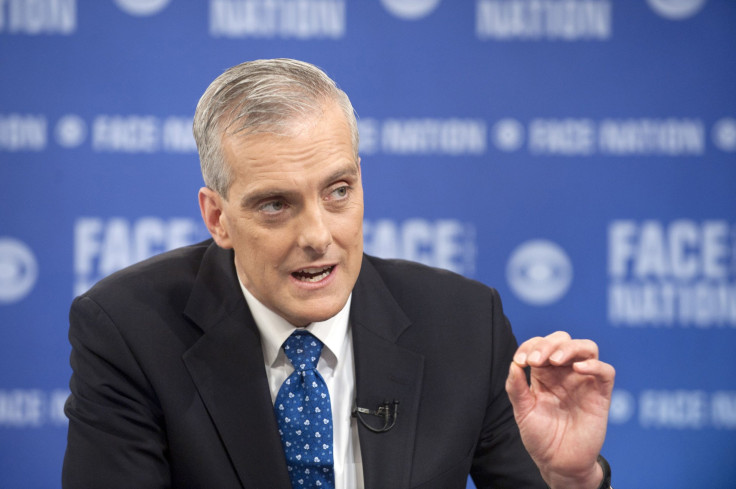 (Reuters) -- U.S. White House Chief of Staff Denis McDonough said Sunday the Republican-led Congress should not sidestep the president's request to formally authorize military action against Islamic State group forces, saying lawmakers must not "take a pass." Under President Barack Obama's orders, the U.S. military has carried out airstrikes against the militant group's forces in Iraq and Syria since last summer but has done so without explicit authorization from Congress.
Obama sent a formal request to Congress Wednesday, but ran into immediate resistance both from Republicans who want stronger measures and from many of his fellow Democrats wary of another war in the Middle East.
Despite differences that could make passage of a resolution difficult, McDonough said, "What they shouldn't do this time is what they did in 2013, when they took a pass on this issue." Congress can change the language in the proposed resolution, he said, but not avoid action altogether.
"They need to take a position, to say what they are for and what they are against on this," McDonough said on CBS News' "Face the Nation." "It's very important in questions of war and peace for Congress to be heard."
Obama has defended his authority to lead an international coalition against Islamic State since Aug. 8 when U.S. warplanes began attacks in Iraq. The formal request he sent last week, which would cover the next three years, eased criticism of Obama's failure to seek the backing of Congress, where some accused him of exceeding his constitutional authority.
In 2013, Obama sent draft legislation to Congress for authorization to use military force in response to the use of chemical weapons in the Syrian Civil War. Ten days later, he asked Congress to postpone the vote while he pursued a Russian proposal for international monitors to take over and destroy Syria's arsenal of chemical weapons. The vote in Congress was never held.
Speaking on the "Fox News Sunday" program, House of Representatives Speaker John Boehner said "it's too early to predict" whether Congress will pass authorization legislation for the fight against the extremist group formerly known as either ISIL or ISIS. Boehner said House Republicans plan "exhaustive hearings" on the matter. "The president is asking for less authority than he has today under previous authorizations. I don't think that's smart," Boehner said.
Republican Senate Foreign Relations Committee Chairman Bob Corker, also speaking on CBS, said "robust" hearings were planned in the Senate.
Obama's plan does not authorize "long-term, large-scale ground combat operations" such as those in Iraq and Afghanistan. The draft allows for certain ground combat operations, including hostage rescues and the use of special forces.
(Reporting by Susan Cornwell; Additional reporting by Will Dunham; Editing by Stephen Powell)
© Copyright Thomson Reuters 2023. All rights reserved.