Conor McGregor Admits He Wants To Use Poirier Rematch To Prepare For Pacquiao
KEY POINTS
Dustin Poirier speculates that Conor McGregor wants him because he has the same fighting stance as Manny Pacquiao
Poirier also thinks McGregor is using him to set up a rematch with Khabib Nurmagomedov
McGregor says he just wants to "keep sharp" ahead of his bout with Pacquiao
Conor McGregor admits that his rematch against Dustin Poirier is part of his preparation for the Irishman's target boxing fight against combat legend Manny Pacquiao.
McGregor was straightforward as he responded to Poirier, who had speculated earlier that the former UFC featherweight and lightweight champion's real motive in the rematch is to gauge his stance against a southpaw like the Filipino slugger.
"Correct. Southpaw box style. Continue to sharpen my MMA skills with some tough competition, while leading into my Manny bout preparation," McGregor wrote on Twitter. "It's not easy going between both sports and then coming back to the one sport again. Just want to keep sharp guys, that's all. It's only fair."
It seemed that the intention was clear when McGregor lured Poirier into a fight again. The controversial MMA star prompted a series of exchanges on social media between him and Poirier. And it did not take long before both fighters agreed to face each other again six years after the Notorious stopped the Diamond in less than two minutes at UFC 178 in Las Vegas.
"Going back to why he wants this fight … I think he's angling to fight Pacquiao," Poirier told Teddy Atlas. "So I don't know if the UFC wants him to fight one more time before they allow him to fight Pacquiao, or if he just wants to get one more in this year before starting next year with the Pacquiao fight."
"But what better way to do it than another southpaw," the American added. "Maybe he wants to fight a southpaw before he fights another southpaw."
Poirier also speculated that McGregor may use him as a "gatekeeper" in the latter's bid to land a rematch against Khabib Nurmagomedov, the current UFC lightweight champion.
"Khabib, the current world champion, who is about to defend his belt, said if Conor or Tony (Ferguson) fights me or wins, then he'll give him a title shot, so that's in the back of (McGregor's)head, too," Poirier continued.
The rematch against the Russian could be technically viable for McGregor, but the MMA superstar appears to be more focused on another cross-over battle, this time against Pacquiao.
The eight-division boxing world champion, meanwhile, seemed to have taken a huge step into securing the mega bout against McGregor after recently signing a deal with Paradigm Sports, the same sports agency that handles the Irish superstar.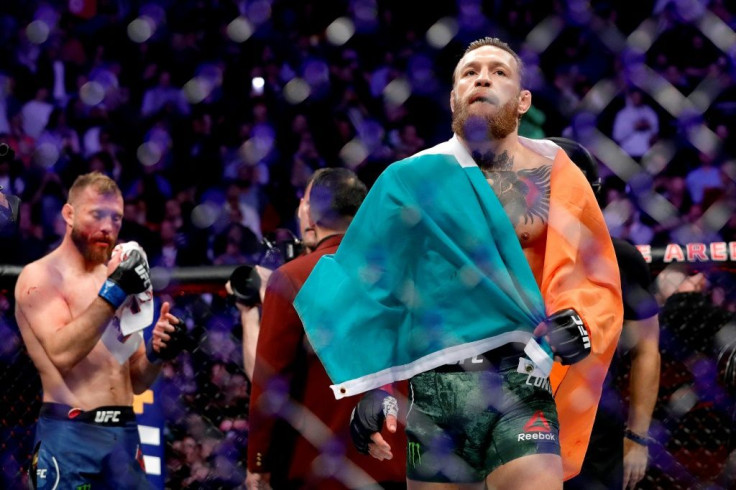 © Copyright IBTimes 2023. All rights reserved.