Constitutional Crisis In Egypt: Opposition Plans More Protests Against Morsi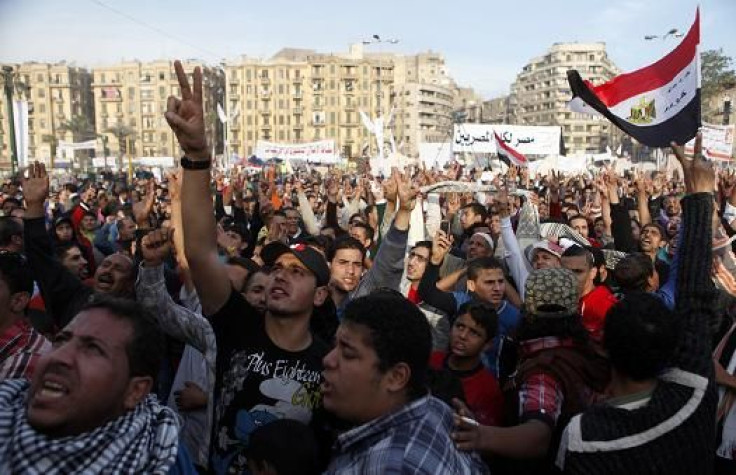 The constitutional crisis in Egypt continues unabated with no resolution in sight.
More protests are planned for Tuesday in Cairo against President Mohammed Morsi, whose Muslim Brotherhood party had rushed to draft a constitution that much of the public will not accept. This time, demonstators will march on a presidential residence at Abdeen palace itself, Al-Masry Al-Youm reported on Monday.
The demonstrators are asking for reforms to the draft constitution, which was pushed through the Assembly last week, for Morsi to rescind the decree giving him immunity from judicial oversight, and for the dissolution of the right-wing Islamist-heavy Assembly.
Several political figures are expected to take part in the marches, but specific names were not provided.
Al-Masry Al-Youm (whose name translates to Egypt Today) announced they would be one of the many Egyptian news outlets who would suspend service on Tuesday as part of a planned boycott to protest Morsi and the constitution.
On Monday, Egypt's Supreme Judicial Council agreed to delegate judges to oversee a referendum on the constitution, Al-Arabiya reported, in a blow Morsi's opponents.
"The Supreme Judicial Council has met and agreed to delegate judges to oversee the constitutional referendum," Mohamed Gadallah, legal adviser to the Egyptian president, said on Monday to Al-Jazeera.
MENA news agency reported that Egyptian ex-patriates will begin voting in the referendum on Saturday.
The Egyptian judiciary, which is heavy with lawmakers appointed during the era of former President Hosni Mubarak, has been called on to rule on the legality of the Islamist-dominated Assembly and the committee that wrote the draft constitution, after the committee was boycotted by much of the opposition, Al-Arabiya said.
"[We condemn] the irresponsible act by the president of the republic in calling a referendum on an illegitimate constitution that is rejected by a large section of his people," an umbrella of opposition groups said in a statement.
© Copyright IBTimes 2023. All rights reserved.