Copenhagen Shooting: Gunshots Erupt At Free Speech Event In Denmark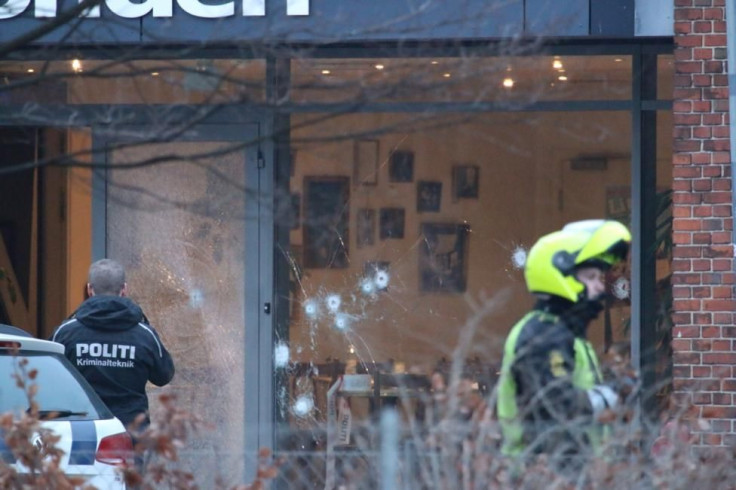 At least one person is dead after bullets ripped through the windows of a Copenhagen cafe where Swedish artist Lars Vilks was hosting a freedom-of-speech event in the Danish capital Saturday, according to Agence France-Presse.
Spectators heard shouting and dozens of gunshots fired with an automatic weapon at the Krudttoenden cafe. At least two people, including a uniformed police officer, were wounded, the Associated Press reported, citing the TV2 channel. Two gunmen are believed to be at large, BBC News reported. The French ambassador to Sweden, Francois Zimeray, was in the audience, according to multiple reports, but he was not harmed during the shooting.
"I saw a masked man running past," Helle Merete Brix, one of the event's organizers, told AP. "I clearly consider this as an attack on Lars Vilks," she added, saying Vilks was at the meeting, but was uninjured.
Vilks was hosting an event titled "Art, Blasphemy and the Freedom of Expression" at the cafe in northern Copenhagen. The artist has been subjected to numerous attempted attacks and death threats since he depicted the Prophet Muhammad as a dog in 2007. Vilks has told the AP fewer organizations have been inviting him to deliver lectures because of increased security concerns.
Vilks, 68, has faced a string of threats for caricaturing the Prophet Muhammad. Last year, a Pennsylvania woman was sentenced to 10 years in prison for a plot to kill him, and in 2010 two brothers were imprisoned for attempting to burn down his house in southern Sweden.
Following a separate attack in 2010 at Uppsala University in Sweden, in which a woman charged a dais and hit him in the face, the artist told the AP that he has booby-trapped his own house and sleeps with an ax beside his bed.
Last month, Islamic militants killed 12 people while storming the office of satirical magazine Charlie Hebdo in Paris, which often had published controversial cartoons on Islam and the Prophet Muhammad.
© Copyright IBTimes 2023. All rights reserved.