Coronavirus In Philippines Update: Third Case Confirmed, 300 Chinese People Stranded At Airport Over Travel Ban
KEY POINTS
Philippine health authorities announced the country's third confirmed case Wednesday
About 130 other people are being monitored
Malaysia is another Asian country facing the same dilemma as the Philippines
With one death and the third coronavirus case now confirmed in the Philippines, Manila's sweeping travel ban on Sunday is affecting hundreds of Filipino domestic workers and at least 300 Chinese citizens who have been barred from flying back to China's mainland, Hong Kong and Macao.
There are millions of Filipinos of Chinese ancestry plus over three million Chinese workers in the country. The back and forth travel between China and the Philippines make Manila and other Philippine airports the prime targets for government health agencies and the administration who are trying to contain the virus. Increased monitoring, quarantines and travel bans are the most common ways to stop infected people from entering.
People arriving from Wuhan, China, will face the closest scrutiny as the city of about 11 million people is where the coronavirus (2019-nCoV) made the leap from some animal to a human and created the worldwide health crisis. On Wednesday, Philippine health authorities announced the country's third confirmed case of coronavirus, a 60-year-old Chinese woman from Wuhan. About 130 other people are being monitored.
Malaysia is another Asian country facing the same dilemma as the Philippines. There are now 12 confirmed cases, the most recent being two Malaysian citizens who had been in Wuhan.
A case involving a 41-year-old Malaysian man is a great example of how difficult it is to contain this particularly communicable virus strain. He traveled to Singapore for a meeting where he met a delegation from China that included one member from Wuhan. A simple handshake or an uncovered sneeze may have resulted in the infection and Singapore is far removed from Wuhan.
The Muslim majority country is facing another problem with disinformation about the illness. A former reporter for the New Straits Times, Wan Noor Hayati Wan Alias, age 40, caused some uproar over her Facebook posts that claimed 1,000 Chinese nationals had arrived in the country. She pleaded not guilty after being arrested and charged with making "statements conducing to public mischief" causing "fear or alarm to the public".
She also suggested the government would only be willing to declare an emergency if "LGE" (Lim Guan Eng, Malaysia's ethnically Chinese finance minister) became infected. If convicted, she faces up to two years in jail and/or a fine. Hayati was the first of at least five people charged over "fake news" and authorities have warned others against spreading misinformation or inciting racial unrest.
Getting stuck at the Ninoy Aquino International Airport in Manila, frequently included on lists of the world's worst airports, is one thing but in Malaysia, there have been social media posts mocking Chinese accents and accusing Chinese of causing the deadly virus by eating "exotic meat".
"Blaming" Chinese citizens for the coronavirus could set a dangerous precedent so Bai Tian, China's ambassador to Malaysia, on Tuesday tried to dispel these claims pointing out that not every Chinese person eats exotic wildlife.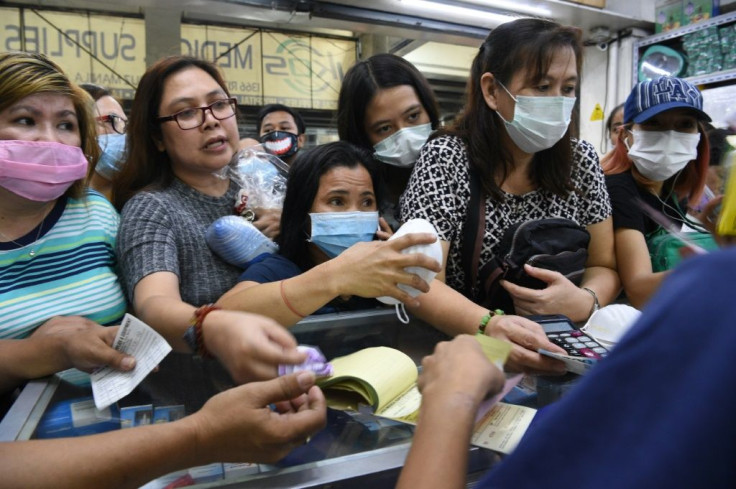 © Copyright IBTimes 2022. All rights reserved.
FOLLOW MORE IBT NEWS ON THE BELOW CHANNELS