COVID-19 News: FDA Restricts Use Of Johnson & Johnson Vaccine To Adults Over Blood-clot Concerns
The Food and Drug Administration (FDA) restricted Johnson & Johnson's (J&J) COVID-19 vaccine to just adults because of the risk of life-threatening blood clots within two weeks of vaccination.
For months U.S. authorities, including the Centers for Disease Control and Prevention, recommended Pfizer's and Moderna's two-course vaccination program over J&J's single vaccine. U.S. health authorities made the recommendation because of similar health concerns.
"The Janssen COVID-19 Vaccine still has a role in the current pandemic response in the United States and across the global community," said Dr. Peter Marks, FDA director of the Center for Biologics Evaluation and Research.
The FDA determined that the benefits of the J&J COVID-19 vaccine currently outweigh the risks for adults. If other vaccine options are not available, workable, or viable, then J&J is the best option.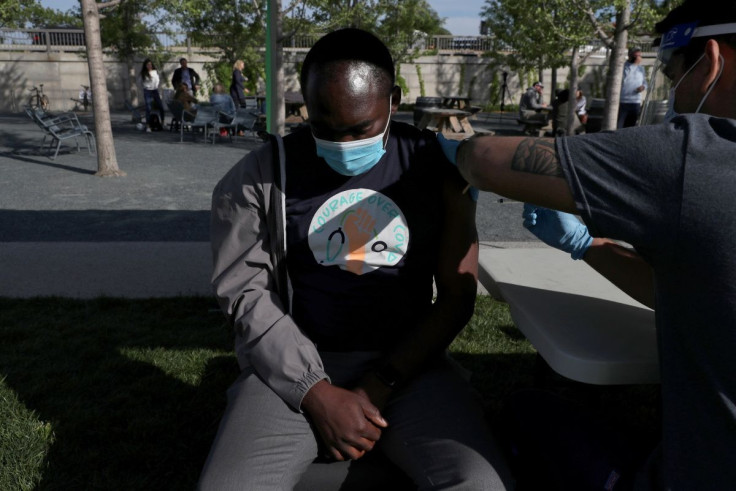 The FDA originally allowed for emergency use of the J&J COVID-19 vaccine on Feb. 27, 2021. Reports about TTS blood clots emerged shortly after. Those reports caused the FDA and the CDC to order a pause on vaccine administration.
The FDA and CDC lifted the pause on the administration of the J&J COVID-19 vaccine on April 23. By then, the agencies recorded 15 cases of TTS out of eight million doses.
Since then, there are 60 confirmed cases of TTS from the J&J vaccine and nine deaths. Aside from the risk of death, TTS can also lead to long-term and debilitating health consequences.
"The reporting rate of TTS is 3.23 per million doses of vaccine . . . the reporting rate of TTS deaths is 0.48 per million doses of vaccine," the FDA estimates.
The number of people who got J&J's COVID-19 vaccine is around 17 million in the US as of April 1 according to Today. While that translates to a relatively small group of people who could develop TTS, "the factors that put an individual at risk for TTS following administration of Janssen COVID-19 Vaccine remain unknown."
The CDC recommends that anyone who received a single dose of the J&J vaccine get a Moderna or Pfizer booster shot.
© Copyright IBTimes 2023. All rights reserved.