'Crash Arena Turbo Stars' Cheats & Tips Guide: Strategies For Moving Up The Ranks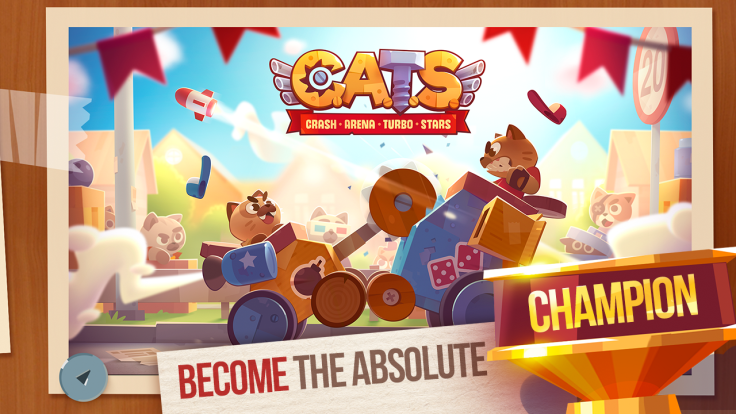 Started playing Crash Arena Turbo Stars (C.A.T.S), but having trouble moving up the ranks? Check out our tips, tricks and cheats guide for building the best car and getting promoted in the addictive new mobile game.
Last week mobile game developer
ZeptoLab
, released its addictive new hit,
Crash Arena Turbo Stars (C.A.T.S.)
and if you love a good mobile game but have yet to give this one a whirl, we recommend you get right on it.
Crash Arena Turbo Stars
offers not only beautiful graphics and animations, but it also combines enough strategy, action about machine building factors to make it a ton of fun for all kinds of mobile gamers. In the
g
ame, players are tasked with building the best little crash and smash derby car (think Boy Scout Derby Car) they can come up, which is then thrown into an arena to see which player survives. While building a winning car might not seem so difficult on the surface, it can be surprisingly complex. There are several adjustable variables like wheels, body builds and tools equipped that can impact battle outcomes. If you are new to the game, figuring out how to win more battles and get promoted through the ranks can be tricky. While we won't claim to have it all figured out, after several days of battling we decided to put together a beginner's cheat guide with tips to help you get more wins and start moving up the ranks. We've also created a separate tips guide which covers the best cars, builds and weapons for beginners, linked below, so check it out!
RELATED: 'Crash Arena Turbo Stars' Best Cars And Weapon Combos: Guide For Building An Opponent-Crashing Machine
Crash Area Turbo Stars Tips: Beginner Guide To Building The Best Car And Getting Promoted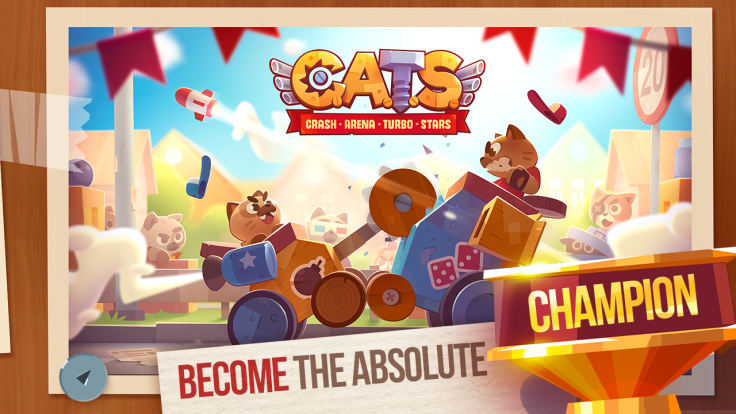 General Building Tips
Tip #1: Test Lots Of Combinations
As you progress through the game, you're going to get some basic chassis, wheels, weapon types and gadgets unlocked. As you accumulate more of them, you'll want to test different combinations of items to see what is most effective. Even if you have more than one of a particular chassis build, for instance, you should still test it with different wheels/weapons/gadgets. The reason is because even if you have three Classic chassis none of them will have the same number of wheels and connectors for gadgets, nor will these items be positioned in the same places. Besides that, different versions of the same chassis, wheels or gadgets come with varying amounts of health, damage, and power as well. As soon as you build a vehicle, take it out for at least 5 quick battles to see how it holds up against different competitors. If you find a build that seems pretty good, focus on upgrading it small bits at a time. If you begin to hit a brick wall with your build, before investing in any more upgrades, again go back to the testing process to see if you have something new that might work better/have better stats.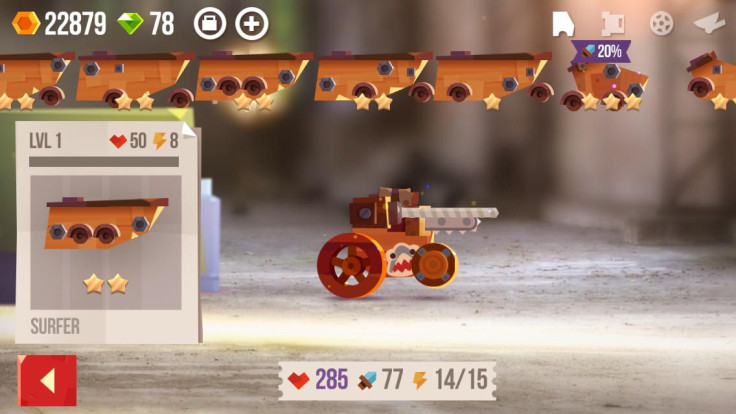 Tip #2 – Keep A Record Of Good Builds
No build is going to win every battle, but if you run across one that's working well, it's a good idea too to keep screenshots of it. During the course of the game you're going to put together a lot of different combos. Keeping screenshots of good builds will ensure you don't forget them and can also help you compare its stats against a new vehicle you may be testing. When you get to the Championship Fights, you'll often need to use different vehicles to gain the most medals (more on Championships that below) and get promoted so you need to keep track of a few different good builds.
Tip #2 – Pay Attention To Which Vehicles Are Beating You
Whether in Quick Fights or Championship Battles, you need to take note of vehicles that seem to be beating you. If the difference is mainly in weapon damage or health, you may need to upgrade your components. If it's a particular feature like vehicles with forklifts or classic body types with low wheels, then you need to consider how you might modify your vehicle to lower your chance of losing to these types of vehicles. You can't always remedy the problem, but being thoughtful about your weaknesses is the best way to start improving.
Tip #3 - Choose The Best Fuse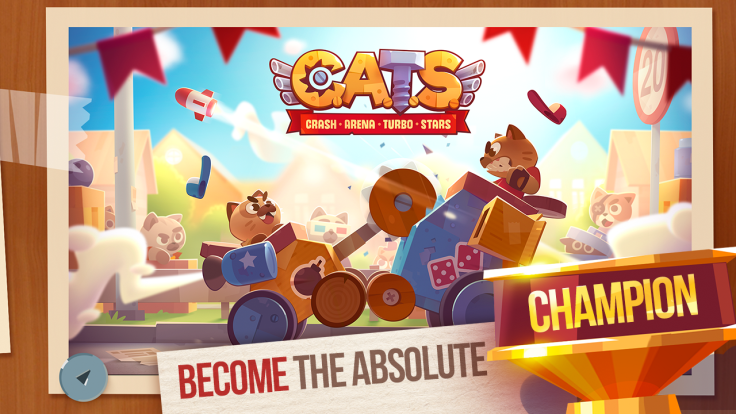 As you progress through the ranks, you'll have to start upgrading your vehicle and parts in order to keep winning. This is mainly done by fusing parts. As mentioned before, pay attention to what your weaknesses are. If you have a pretty strong weapon, but not much health, the focus on upgrading your vehicle's health. Items that contribute to vehicle health are largely the wheels and chassis. Before you fuse a spare part with one of your items, you'll want to test and see which fuse will do the most good. For example, if I have 6 different Blades, and I am willing to fuse up to three of them onto another part, test each one first to see how much good it does when fused. Sometimes you'll find you can complete an upgrade by fusing just one particular part instead of three or four. Certain parts will also provide more upgrade value as well. You can test them by holding a part you are thinking about fusing over the top of the part you want to upgrade and see how the stats are affected.
Champion Stages And Quick Fight Leagues: Tips For Getting Promoted
C.A.T.S. has two different systems of promotion for players: Stages and Leagues. Stages are for the Championships and Leagues are for the Quick Battles.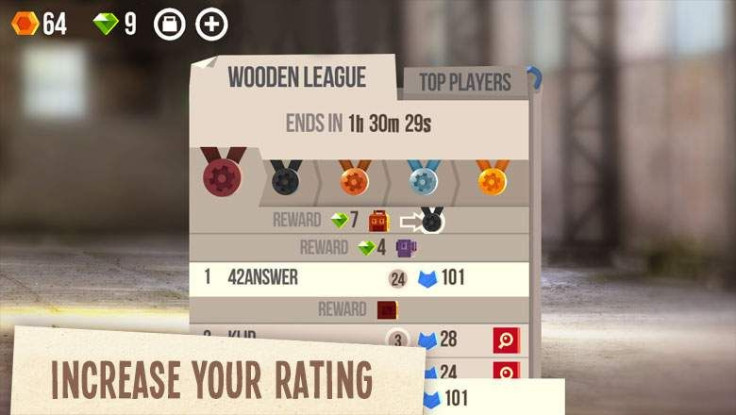 Quick Battle Leagues
Quick Battles are kind of like local leagues and are a great way to practice and improve your builds while also gaining some valuable rewards as you move up levels in your league. You move up levels by winning Quick Battles and earning Rating (blue cat) points. Here are a few tips for getting more Rating points.
#1 – Play As Long As You're Winning
So to accumulate a lot of Rating points you obviously need to run the best build you can. If you find one that is winning, keep playing until you lose. The reason is because this starts a streak. Each time you win a battle they give you more Rating points than the battle before (up to 40) until your streak is broken.
#2 – Don't Lose Too Much
If you have a build that you are losing with more than you are winning, it's a good idea to go ahead and switch builds. In the same way that you gain more Rating points for having longer winning streaks, the more battles you lose in a row, the more Rating points you will lose. You can lose one battle and not get a penalty, but for every battle you lose in a row, you lose 4 Rating points.
Championship Stages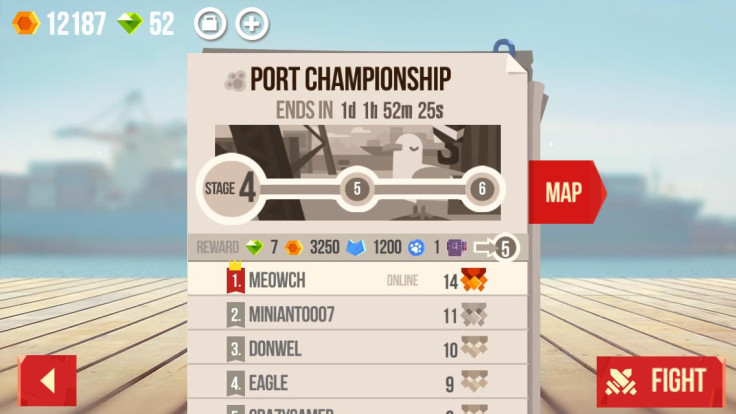 In the Championship Mode, there are 24 different stages you move through and then you have an option to prestige and begin the game again, holding onto your Skills, Ratings and Gems previously earned. Moving up stages not only gets you valuable resources like gems and coins, it also unlocks improved vehicle tiers. The first 2-3 stages are pretty easy to move through but it becomes trickier the higher you get.
There are two methods of getting promoted. The first is to run a Big Fight and win all 14 battles. The second is to be the top-ranked player in your group at the end of a season, which lasts 48 hours.
Here are a few tips for getting promoted and moving up stages.
Tip #1 – Test The Big Fight
When you first get promoted to a new stage, it's best to go ahead and run a Big Fight, which basically has you fight against all 14 opponents in your group to see how your vehicle compares. If you win all 14 battles you are instantly promoted. If you don't manage to beat them all in one run, you can still get promoted, it just takes more work. A test run, though, at least takes care of some battles quickly. As mentioned before, pay attention to which vehicles beat you in the championship and note if the issue is health, attack or build-related as you'll need to use that info in the next step.
Tip #2 – Customize and Test Against Individuals
After you've run your Big Fight, open the Championship area again and take a look at the list. The players with a red sword beside their names are the ones you didn't manage to beat. Those are the players you need to try to win against in order to gain more medals. At the end of a season, each player will have between 0-14 medals and the player with the highest number of medals is the one that gets promoted. In order to get more medals, you need to find a way to beat those players you could not beat in the big fight. This means you need to go and test a new build. So, for example, if you noticed you lost against players who had a forklift, then test a build that is immune to the forklift or can still deal damage even when flipped over. Use that build against the players you didn't beat in the Big Fight. Keep going against players you lost to with different builds till you find one that is able to win, and then cross your fingers that you can stay on the top.
Tip #3 – Try To Play Close To The End Of A Season
A day before a tournament ends you have 14 medals. Next morning you wake up with 4 medals and someone else was promoted. What happened? What happened was players in your groups upgraded their vehicles, fought against you and beat your tail (Yes, players can fight you even when you aren't around). For this reason, it's a good idea to try to play close to the end of a season so you have a greater chance of holding on to your medals. If you can't manage that, just make sure to check how you are ranking every time you do play.
Got great Crash Arena Turbo Stars tips and tricks? Email c.harbison@ibtimes.com and if we like them, we'll add them to our guide, with a hat tip to you, of course, for sharing.
FOR FREE to continue reading
✔️ Unlock the full content of International Business Times UK for free
offer available for a limited time only
✔️ Easily manage your Newsletters subscriptions and save your favourite articles
✔️ No payment method required
Already have an account?
Log in
© Copyright IBTimes 2023. All rights reserved.