Cruise Ship Update: COVID-Infected Crewmembers Isolated On Empty Ships
With 92 cruise ships in U.S. waters currently carrying COVID-infected passengers or crewmembers, Royal Caribbean (RCL) has made the decision to isolate crew that have tested positive for the virus on out-of-service ships.
According to USA Today, the cruise line transferred COVID-infected crewmembers to two of its out-of-service ships - Vision of the Seas and Rhapsody of the Seas - where they will quarantine during the Omicron spread.
Royal Caribbean spokesperson Lyan Sierra-Caro confirmed the crew transfer to USA Today, saying in a statement, the move was part of an effort to "keep our crew and ships as healthy as possible."
In recent weeks, cruise ships in U.S. waters have been hit by a massive number of COVID infections among passengers and crew despite requiring vaccinations for workers and most, if not all, passengers. Negative COVID tests are also required for passengers prior to boarding the ships.
Sierra-Caro's statement to the news outlet continued by saying that the crew was transferred from a "variety of our ships in the Caribbean" to two out-of-service vessels over the course of three weeks.
The specific number of crewmembers who were in quarantine on the out-of-service ships was not provided, but Sierra-Caro did tell USA Today workers are moved back to assigned ships once their 10-day quarantine period is completed.
On Wednesday, about 100 asymptomatic or mild symptomatic crew of Rhapsody of the Seas were transferred, which Sierra-Caro continued by saying was an ongoing and ever-changing process.
The Centers for Disease Control and Prevention has warned Americans against traveling on cruise ships, placing them in their highest risk level category (Level 4), saying no matter a person's vaccination status, there is a "very high" risk of contracting COVID-19.
The CDC is currently investigating all 92 ships carrying passengers in U.S. waters for COVID-19 infections, according to The Washington Post.
Passengers Cyndi and Chris Siegle, who were on Royal Caribbean's Allure of the Seas, which was docked in St. Maarten, saw the crew transfers to the Rhapsody of the Seas and posted a video of the exchange on YouTube, according to USA Today.
They described the incident as "kind of concerning" in the video. Cydni said, "That's a lot of crew to be down," as crewmembers were moved for about three hours.
As of Friday premarket hours, shares of Royal Caribbean were trading at $78.55, up 63 cents, or 0.81%.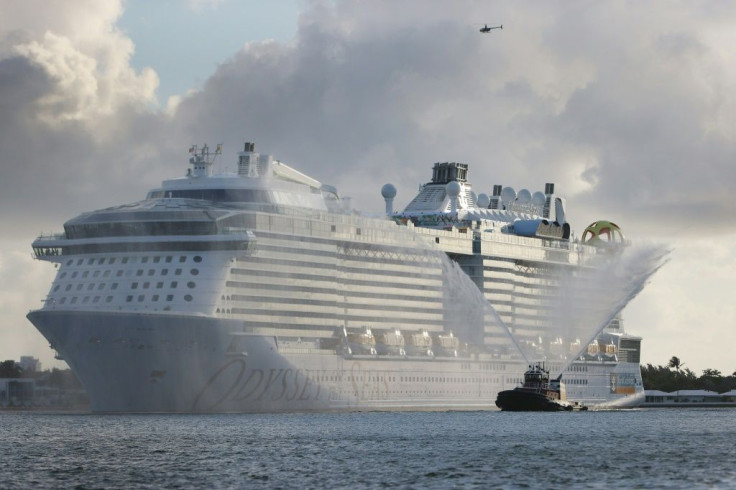 © Copyright IBTimes 2023. All rights reserved.