Cuba-To-Florida Swimmer Says She Is 'Through With The Ocean'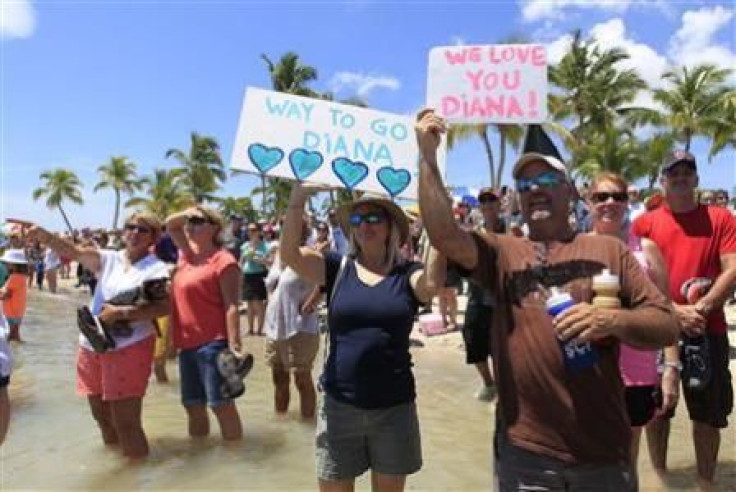 The 64-year-old American woman who swam 110 miles from Cuba to Florida vowed on Tuesday to raise money for hurricane, bombing and tornado victims with endurance swims in a pool, saying, "I am through with the ocean."
Diana Nyad, speaking on U.S. television networks, said she would continue making long-distance swims in a portable pool to be installed in New York. She pledged to swim 48 hours on October 8-10 to raise money for people left homeless last year by Hurricane Sandy.
"No waves, no jellyfish, no seasickness," she said on CNN, referring to the pool.
Then she planned to take the pool to Boston to raise money for victims of the Boston Marathon bombing tied to the anniversary of the April 15 attack, and later to Moore, Oklahoma, to raise money for victims of a tornado that devastated that town last May.
"My message now is, 'We won't forget you,'" Nyad said to victims.
Nyad became the first person to swim across the Florida Straits from Cuba without a shark cage, completing her 53-hour swim on Monday after four prior attempts, the first in 1978. She set a record for the longest ocean swim without a shark cage or flippers, according to her crew.
Nyad credited a lack of box jellyfish, which she called the most deadly animals in the ocean, with allowing her to make it this time. She also wore a prosthetic mask to protect her from jellyfish, although it also allowed sea water into her mouth, creating sores and repeated vomiting during her swim.
"That's their world, and I had to get through them," Nyad said on NBC's "Today" show.
(Reporting by Daniel Trotta; Editing by Barbara Goldberg and Maureen Bavdek)
© Copyright IBTimes 2023. All rights reserved.