As Obama Visits Cuba, These Business Execs And Entrepreneurs Are Following, Eager To Explore Opportunities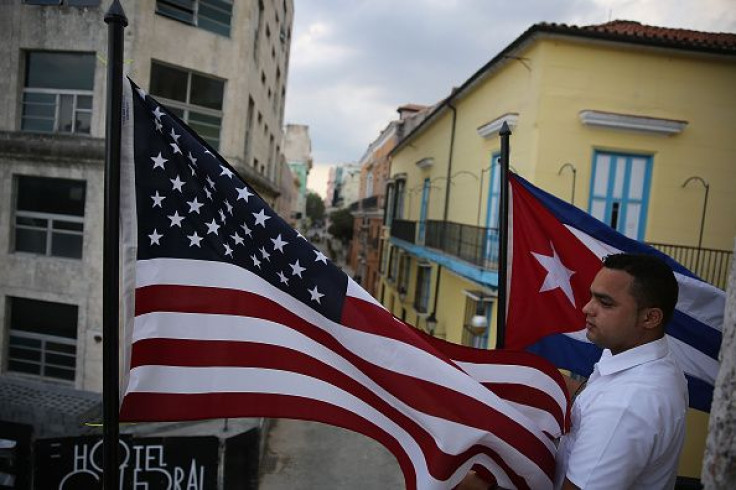 Some American businesses are positively salivating at the prospect of finally tapping into Cuban markets, and now, U.S. President Barack Obama's three-day trip to the island nation is offering a tantalizing taste of the possibilities — particularly for the select crew of business leaders who are tagging along.
Among the dozen leaders officially accompanying Obama are Airbnb co-founder Brian Chesky, Marriott CEO Arne Sorenson, Major League Baseball Commissioner Rob Manfred and Starwood Hotels general counsel Ken Siegel.
Obama's visit, which is set to conclude Tuesday and includes meetings with Cuban political and civil society leaders as well as local entrepreneurs, comes amid announcements of several major business deals and policy changes that further open the doors to Cuba as the government loosens travel and other restrictions.
The president said Monday that Google had secured a deal to increase wireless and broadband internet access on the island. As of Sunday, Airbnb began offering guests around the world access to booking the private Cuban homes it lists for rent. Previously, after Airbnb began operating in Cuba in April, only travelers from the U.S. were able to book.
Major hotel chain Starwood announced Sunday that it had closed a deal to manage three hotels in Havana, the first deal of its kind in nearly six decades. Marriott, another leading hotel corporation that is negotiating to buy Starwood, said Sunday that the Treasury Department had approved its application to "pursue business opportunities" in Cuba and that it was "actively pursuing relationships in the hospitality sector."
Rounding out the White House list of CEOs and business leaders were José Andrés, a chef and co-founder of restaurant company ThinkFoodGroup; Saul Berenthal, a partner at Cleber, which in February received permission from the U.S. government to build a tractor factory in Cuba; Ursula Burns, CEO of Xerox and the chair of the president's Export Council; Julie Hanna, entrepreneur CEO of peer-to-peer lender Kiva; Daymond John, CEO of Fubu; Soledad O'Brien of Starfish Media; PayPal CEO Daniel Shulman; and Sheel Tyler, a venture capitalist at New Enterprise Associates.
"In Havana, the president will meet with Cuban entrepreneurs, or cuentapropistas, to hear their experiences," wrote Ben Rhodes, White House deputy national security adviser, on Medium. "The event will include American entrepreneurs who will share their own experiences with their Cuban counterparts and look for opportunities to build long-term relationships."
The official list leaves off a slew of other corporate professionals who also headed to Cuba, tailing the president. James Williams, the president of business group coalition Engage Cuba, also headed south, as did two lobbyists from law firm Akin Gump Strauss Hauer & Feld, a group from the Chamber of Commerce, and a 200-person Major League Baseball delegation that included MLB Chief Operating Officer Tony Petitti and former players Derek Jeter, Luis Tiant and José Cardenal.
Major League Baseball has long lobbied for an easing of restrictions on Cuban baseball players who want to play in the United States. During Obama's visit, the Tampa Bay Rays and the Cuban national team are slated to play an exhibition game and host a clinic with the Florida players and Cuban children.
The Akin Gump lobbyists, Anya Landau French and Devry Boughner Vorwerk, are going to scout out how they can serve as a guide for clients interested in Cuba, the firm said.
Leaders were also careful to emphasize that the visit was merely one step down a long road of building commercial ties between the countries.
"This is the launching point for a more significant commercial relationship, so being there is really important," Vorwerk told The Hill.
MLB Chief Legal Officer Daniel Halem told The Hill that while informal chats might take place, "We're not planning on sitting down and talking about substantive issues."
Obama and Cuban President Raul Castro announced the historic thaw in relations in December 2014, after more than a year of secret negotiations. Since then, the leaders have restored diplomatic ties — Cuba opened its embassy in Washington in July and the U.S. followed suit in Havana in August — and have begun easing numerous restrictions on travel and financial and commercial operations.
However, the Cold War-era economic embargo officially remains in place and can be fully lifted only with congressional action.
© Copyright IBTimes 2022. All rights reserved.
FOLLOW MORE IBT NEWS ON THE BELOW CHANNELS