Dallas Cowboys Historically Bad For Bettors In 2020, Winless Against The Spread
The Dallas Cowboys have been the biggest disappointment of the 2020 NFL season in more ways than one. Not only is the team flirting with last place in the NFC standings, but they have been the worst bet in football through Week 8.
Dallas has a 0-8 record against the spread, marking a historic run of futility. The Cowboys join the 2003 Oakland Raiders and the 1991 Cincinnati Bengals as the only teams in NFL history to go winless against the spread in their first eight games.
If Dallas fails to cover the spread in Week 9 against the Pittsburgh Steelers, the Cowboys will become the first team to start any season with a 0-9 betting record, The Action Network reports.
Pittsburgh is the lone undefeated team in the NFL. A betting line is not yet available for the game because it's unknown which starting quarterback will be under center for Dallas.
The Cowboys had Super Bowl aspirations heading into the season. They were the early betting favorites to win the NFC East.
That changed in Week 5 when star quarterback Dak Prescott broke his ankle and was ruled out until 2021.
The Cowboys won two of their first five games straight up with Prescott on the field, but the league's worst defense kept them from covering any point spread. Dallas has surrendered more points than anyone in the NFL, giving up 33.3 points per game.
Third-string quarterback Ben DiNucci made his first career start Sunday night against the Philadelphia Eagles. DiNucci threw for 180 yards in a 23-9 loss in Philadelphia. The Eagles started the week as 7.5-point favorites.
Dallas was the betting favorite in four of its first five games. The Cowboys pulled out last-second victories over the Atlanta Falcons and New York Giants, but the games were closer than expected. Dallas was upset by the Los Angeles Rams and Cleveland Browns.
The Arizona Cardinals and Washington Football Team blew out the Cowboys in Week 6 and Week 7, outscoring Dallas by a combined score of 63-13.
Even the winless New York Jets have one victory against the spread.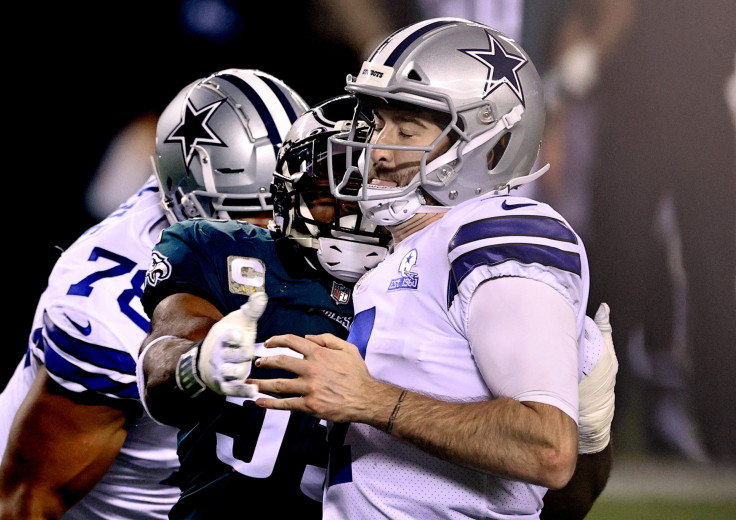 © Copyright IBTimes 2023. All rights reserved.