Dallas Cowboys News: New Contracts For Dak Prescott, Ezekiel Elliott, DeMarcus Lawrence Coming?
Few teams have bigger decisions to make this offseason than the Dallas Cowboys. With 2019 NFL free agency set to begin in a couple of weeks, the Cowboys are considering giving contract extensions to arguably their three most important players.
Dallas is looking to extend quarterback Dak Prescott and running back Ezekiel Elliott, both of whom are entering the final year of their respective deals. The Cowboys are negotiating with defensive end DeMarcus Lawrence after he played the 2018 season under the franchise tag.
Cowboys' owner Jerry Jones has made it clear that Dallas plans to extend Prescott before he can hit the open market as a free agent in 2020. The quarterback is set to make just north of $2 million next season.
Prescott has led the Cowboys to three straight winning seasons since being taken in the fourth round of the 2016 NFL Draft, going 32-16 as a starter and making two Pro Bowls. He hasn't been able to replicate the 104.9 passer rating he posted as a rookie, though he had a career-high 3,885 passing yards last season.
Elliott has also made the Pro Bowl in 2016 and 2018, and some believe he's actually been more important to Dallas' success than Prescott. The former No.4 overall draft pick has led the NFL in rushing yards twice. The Cowboys went 3-3 during his six-game suspension in 2017.
Todd Gurley signed a four-year, $60 million contract extension with the Los Angeles Rams before the 2018 season. The running back received a $20 million signing bonus.
Lawrence made more than $17 million last season, and he would get a raise if the Cowboys decide to franchise tag him again. The defensive end has made two straight Pro Bowls with 25 total sacks during that time.
NFL teams have until March 5 to designate franchise players. Free agency officially starts on March 13.
Dallas won their 2019 wild-card playoff game against the Seattle Seahawks and was eliminated from the postseason when they visited the Los Angeles Rams in the divisional round.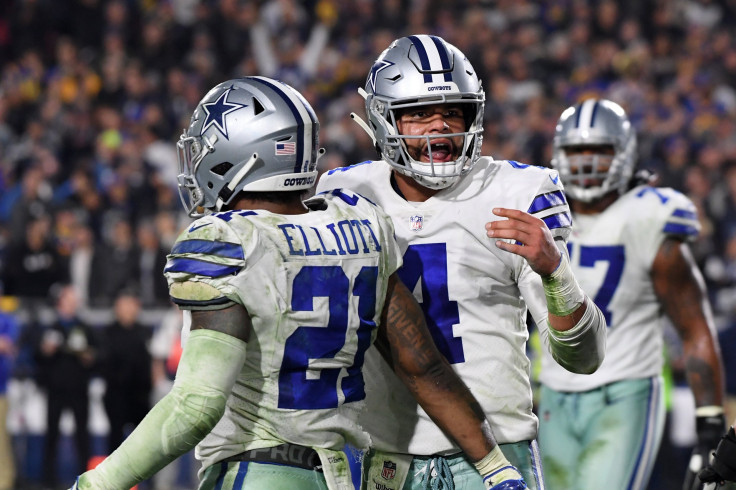 © Copyright IBTimes 2023. All rights reserved.