Dallas Cowboys Rumors: Dak Prescott To Get New Contract Before Ezekiel Elliott, Amari Cooper In 2019
The Dallas Cowboys have been quiet in free agency as they look to lock up their most important players for the next several seasons. After inking defensive end Demarcus Lawrence to a long-term deal, Dak Prescott could be up next.
ESPN's Adam Schefter said on "Get Up" Monday morning that Dak Prescott would likely be the next Cowboy to receive a contract extension. Schefter put Prescott ahead of both running back Ezekiel Elliott and wide receiver Amari Cooper, who are also looking to sign new deals.
Having been taken in the fourth round of the 2016 NFL Draft, Prescott is entering the final season of a four-year contract. Elliott was also drafted three years ago, but because he was a first-round pick, the Cowboys were able to pick up a fifth-year option that will pay Elliott a little over $9 million for the 2020 season.
Before trading him to Dallas last season, the Oakland Raiders picked up the fifth-year option on Cooper's contract. The receiver will make nearly $14 million for the 2019 season before he can become a free agent.
The Cowboys' front office has indicated that it hopes to extend all three players. It only makes sense for them to take care of the sport's most important position first.
The Seattle Seahawks recently gave Russell Wilson a record-breaking deal worth $140 million with $107 million guaranteed. Maybe Prescott won't get nine figures guaranteed, but there's a good chance the total worth of the contract will surpass what Wilson received.
Prescott has led the Cowboys to the playoffs in two of his three seasons. Dallas has never had a losing record with the quarterback at the helm.
Elliot is a better player than Prescott. He's led the NFL in rushing in two of his three seasons. But running backs are proving to be more and more replaceable each year. Add in the fact that running backs aren't nearly as durable as quarterbacks and you can see why Dallas would be more interested in locking up Prescott first.
It's possible Cooper could get an extension before Elliot does. The receiver had a resurgence last year after he was traded from the Raiders, and it clearly made a big difference for Dallas' offense.
The Cowboys went 10-6 last season, beating Wilson and the Seahawks in the wild-card round before losing to the eventual NFC champion Los Angeles Rams in the divisional playoffs.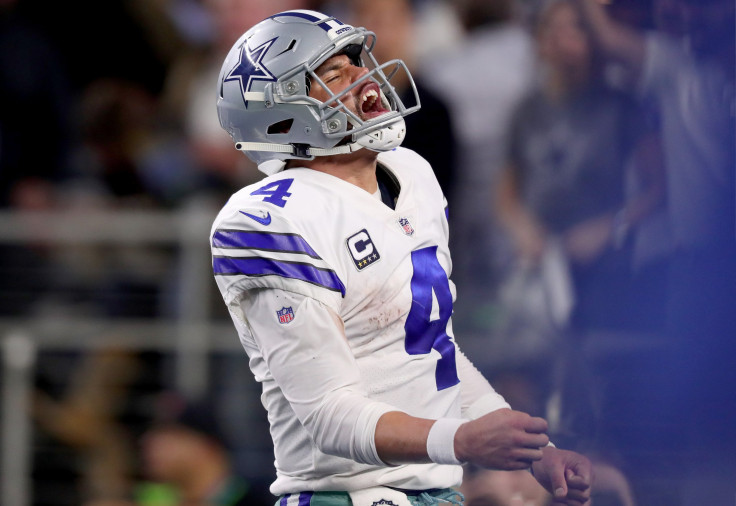 © Copyright IBTimes 2023. All rights reserved.