Danny Garcia vs. Shawn Porter: Keith Thurman Assesses Fight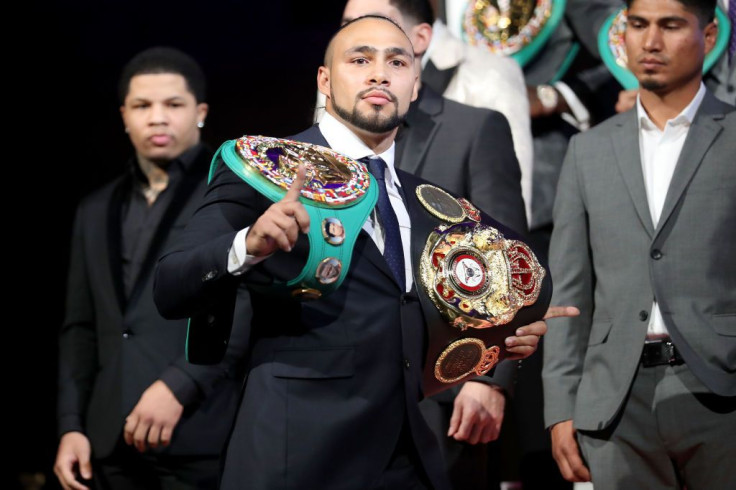 World Boxing Association welterweight champion Keith Thurman gave his assessment of this weekend's title fight between Danny Garcia and Shawn Porter at the Barclays Center in Brooklyn, New York.
Thurman (28-0), of course, was the unified welterweight champion, having taken the World Boxing Council (WBC) title away from Garcia (34-1) when he defeated him via split decision in March last year. He was then expected to defend the two belts in May this year, however, a hand injury ruled him out, forcing him to vacate his WBC title which Garcia and Porter (28-2-1) will now compete for on Saturday.
Having defeated Porter via unanimous decision in 2016 as well, Thurman's opinion on the fight is particularly intriguing as he is the only fighter to have faced and defeated the two welterweights.
Speaking to Showtime via CBS Sports, "One Time" revealed who he gave the edge to in a number of different attributes:
Power: "Danny can punch with both hands. He does load up, so you can't be right there in front of him." Edge -- Garcia

Strength: "Shawn is clearly the more physical fighter." Edge -- Porter

Defense: "Porter's defense is his offense. With Danny, I've never seen anyone so willing to just stare at me without throwing a punch. He's committed to being second, a pure counterpuncher." Edge -- Garcia

Speed: "Shawn is faster and a little more athletic. He'll triple on the jab to get inside and use stutter-steps. Danny's real relaxed, but that doesn't necessarily come through in his hand speed." Edge -- Porter

Technique: "Neither one is known for boxing. Danny's a counterpuncher, and Shawn outworks you. Danny has nice boxing movement when he wants to be evasive. He's underrated when on his back foot. We saw that against [Lucas] Matthysse and [Brandon] Rios." Edge -- Garcia

Ring IQ: "Hard to judge. These are two world champions with tremendous amateur pedigrees." Edge -- Even

Chin: "In my fights, Porter took more big punches than Garcia did. I had to hit hard to keep Porter off me. They both have enough power to hurt each other." Edge -- Even
He also gave his prediction for the fight.
"This is one of the best matchups of the year," he added. "I try not to overthink it. It's Porter by decision or Garcia only by KO. I lean toward Porter."
Of course, Thurman would prefer to be in the ring rather than as a spectator.
The 29-year-old has competed just twice since the start of 2016 and having required surgery on his elbow after the Garcia fight, had to endure another injury to his hand in late March. Thurman recently spoke of how frustrating his setbacks have been mentally.
"This has been very devastating for me," Thurman explained, according to Premier Boxing Champions. "I've had moments of depression during this interval. It's been a heartache at times. I've accomplished a lot in the sport, yet, we're at a standstill. It can be very frustrating but I have a lot of love and support and a great team."
"Everybody just wants me to be healthy. I just wanna be injury free and get back to work and have a few more good years at the top and let that be it. I love the sport of boxing, and I miss it very much. I look forward to being in action and when I do get back, I look forward to reminding and showing the world why Keith Thurman is the No. 1 welterweight," he added.
© Copyright IBTimes 2023. All rights reserved.