David Cawthorne Haines: British National Held By ISIS Could Be Next Target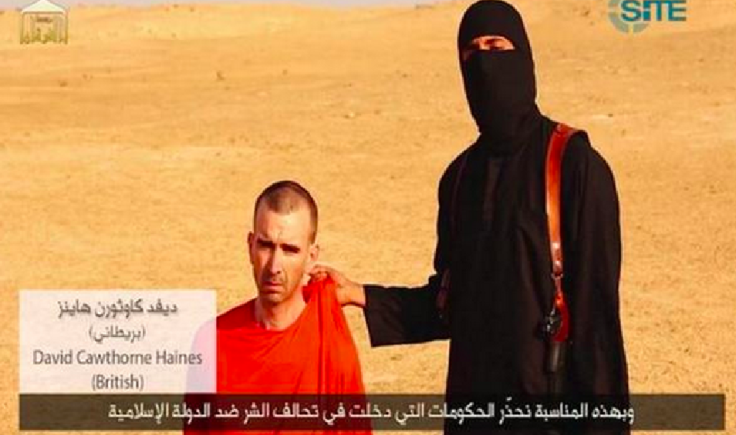 The UK government has confirmed that a British national is being held captive by the Islamic State, just hours after the release of a video on Tuesday that purportedly shows the beheading of another US journalist, Steven Sotloff, BBC reported Wednesday.
A masked militant of the Islamic State briefly showed another hostage -- reportedly a British security expert named David Cawthorne Haines -- and threatened to execute him if the U.S. airstrikes in Iraq did not stop.
Haines, whose LinkedIn page shows that he was most recently a consultant director for Croatia-based manufacturing company Astraea, was reportedly abducted in Syria in early 2013 while working for an aid group. He had previously worked for Nonviolent Peaceforce, a civilian peacekeeping group, in South Sudan, and as the head of a mission in Libya for Handicap International, an aid organization for refugees.
He also spent over a decade in "various positions covering security and threat assessments in a number of different countries" in the military, according to his LinkedIn profile, although it is unclear which one.
Nonviolent Peaceforce, in a statement released Tuesday, confirmed that David Haines had worked for the organization in 2012 in South Sudan as a "non-partisan unarmed civilian peace facilitator."
"A fellow he was abducted with was released a couple of months ago, and we were hopeful that he would be released soon," Tiffany Easthom, the South Sudan country director for Nonviolent Peaceforce, told NBC.
"He was hardworking…very caring and had a good sense of humor," Easthom added. "He decided when he finished with the military, he still wanted to contribute, so he did it from a civilian perspective working for NGOs."
Responding to the Sotloff execution video, British Prime Minister David Cameron said in a statement that the murder was "despicable and barbaric." He, however, did not comment on the fate of Haines.
British government officials, meanwhile, told BBC that there has been a "strong family liaison" between Downing Street and Haines' relatives.
Cameron is scheduled to hold an emergency meeting to "review these latest developments," the statement said, after the Islamic State directly threatened "those governments that enter this evil alliance of America," in what appears to be a reference to the closely aligned geopolitical interests of the U.S. and the UK in Iraq.
© Copyright IBTimes 2022. All rights reserved.
FOLLOW MORE IBT NEWS ON THE BELOW CHANNELS