When Was Steven Sotloff Beheaded? Clues From ISIS Beheading Video Suggest It Wasn't With James Foley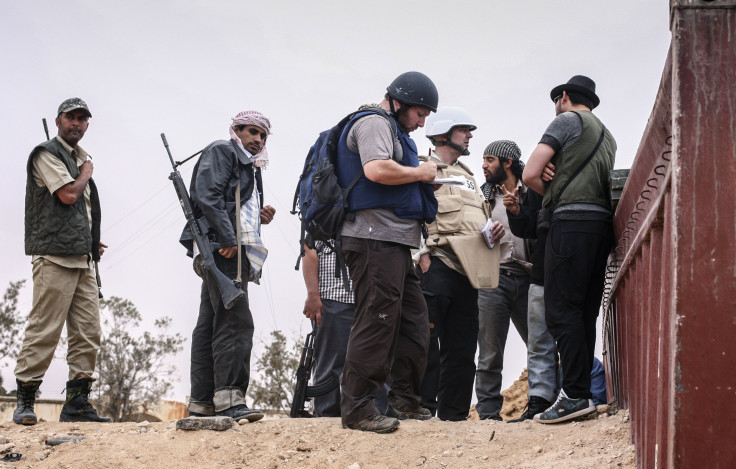 Steven Joel Sotloff was likely not beheaded on the same day as James Foley, a comparison of the two videos showing the beheadings of the U.S. journalists at the hands of Islamic State militants indicates. A video made public Tuesday of Sotloff's alleged beheading showed him with slightly more facial hair than when he appeared in the video purportedly showing Foley's death, which was made public last month.
A U.S. official told the Wall Street Journal Tuesday, however, there was no reason not to believe Foley and Sotloff were killed around the same time. Sotloff was shown in the last seconds of the beheading video ISIS released two weeks ago. In it, Sotloff is nearly bald with some facial hair. In the video released Tuesday, Sotloff has a significantly longer beard. The difference suggests at least parts of the videos were not filmed at the same time.
The "Second Message To America" video made public Tuesday is very similar to the first. It begins with a recorded statement from President Barack Obama authorizing airstrikes on Islamic State, formerly known as ISIS, strongholds in Iraq. Set in a barren desert area, Sotloff is dressed in an orange robe reminiscent of prisoners in Guantanamo Bay and what Foley wore in the first video. Sotloff makes a statement blaming Obama for what is about to happen to him. The executioner then speaks in English.
"I am back, Obama," the black-clad ISIS executioner said. "I am back because of your arrogant foreign policy toward the Islamic State. Because of your insistence on continuing your bombings on Amerli, Samarra and the Mosul Dam."
The U.S. helped Iraqi and Kurdish forces Saturday take back the Iraqi town of Amerli, which had been under seige by ISIS for two months. ISIS seized Mosul Dam earlier in August, before the Foley beheading video was made public. ISIS lost control of the dam the day before the Foley video was released.
Both videos show the journalists and executioners in a barren desert area. One significant difference is there is more wind in the second one.
Eliot Higgins, founder of investigative journalism website Bellingcat, confirmed Foley was beheaded in Erbil, Iraq. He speculated Tuesday the two videos were recorded at different sites.
U.S. officials have said they believe both videos were made some time ago and were delayed for effect. A British national ISIS threatened to decapitate next in the Sotloff beheading video has likely already been killed, U.S. officials said.
ISIS captured Sotloff in August 2013 near the Syria-Turkey border. He was working for Time Magazine at the time. Sotloff's family issued a statement Tuesday, saying the family "knows of this horrific tragedy and is grieving privately."
© Copyright IBTimes 2022. All rights reserved.
FOLLOW MORE IBT NEWS ON THE BELOW CHANNELS