Daytona 500 Explosion: Race Postponed by Jet Dryer Collision on Lap 160 [VIDEO]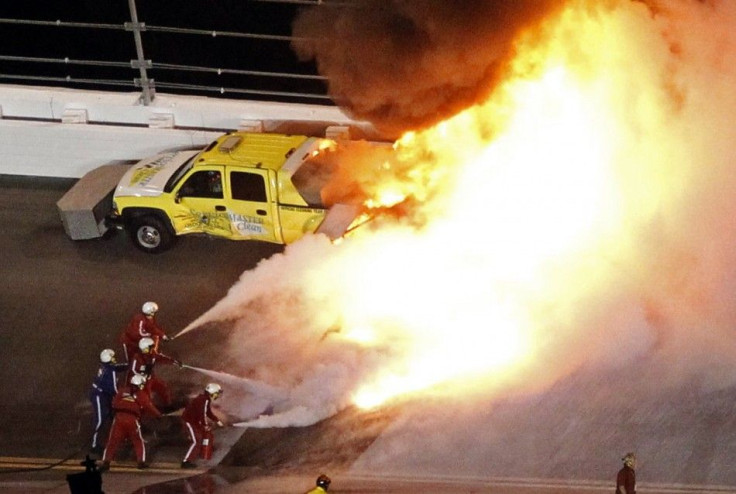 The Daytona 500 was stopped again today by a massive explosion when Juan Pablo Montoya slammed into a jet dryer entering turn three of the stoired race track.
The truck, which carries 200 gallons of jet kerosene, burst into a huge fireball on impact.
Montoya's car bounced clear after the impact and he was able to get out of the vehicle unharmed. The driver of the truck, Duane Barnes, had to be helped from his vehicle by emergency crews but he also escaped serious injury.
Montoya was well back of the pack during a caution or more drivers could have been involved in the wreck. In the video below, it appears as though something broke on Montoya's car as he was attempting to catch back up with the pack.
Dave Blaney was in the lead when the wreck happened on lap 160. The race was postponed for two hours after the wreck in order to get the vehicles off the track and to get the remaining kerosene cleaned up.
After the delay, the race resumed and eventually, Matt Kenseth held off Greg Biffle and Dale Earnhardt Jr.
Before this latest setback, the 500 had already been postponed more than 30 hours due to rain.
More video below:
© Copyright IBTimes 2023. All rights reserved.