Debt Ceiling Battle II? Boehner Again Links US Debt Ceiling Hike To Spending Cuts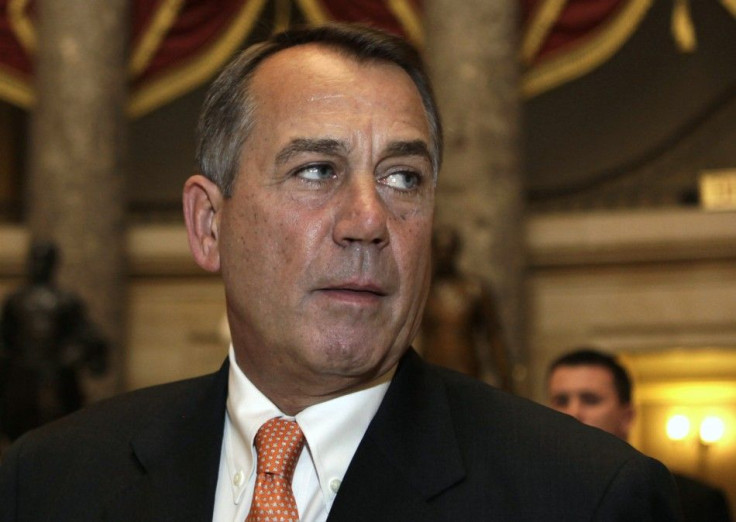 U.S. House of Representatives Speaker John Boehner is poised to set up another clash with the White House over raising the debt limit.
The Ohio Republican leader of the House on Tuesday will call for another round of spending cuts when President Barack Obama must ask Congress to raise the debt limit -- a reprise of last summer's showdown that ended with a failed grand bargain to slash trillions from the deficit. A debt ceiling vote is expected after Election Day, USA Today reported Tuesday.
When the time comes, I will again insist on my simple principle of cuts and reforms greater than the debt limit increase, Boehner will say, according to prepared remarks. This is the only avenue I see right now to force the elected leadership of this country to solve our structural fiscal imbalance.
For decades, raising the debt ceiling was a routine measure to let the U.S. pay its bills to avoid default. But when Republicans took control of the House in 2010, that routine request from the White House was rebuffed.
Boehner had insisted that the increase in the debt ceiling must be matched by spending cuts, dollar for dollar. Though that was ultimately rejected, he will again calling for spending cuts equal to any hike in the debt ceiling when he addresses the Peterson Foundation Fiscal Summit in Washington.
This is the only avenue I see right now to force the elected leadership of this country to solve our structural fiscal imbalance, the speaker will say. If that means we have to do a series of stop-gap measures, so be it -- but that's not the ideal. Let's start solving the problem. We can make the bold cuts and reforms necessary to meet this principle, and we must.
News of Boehner's remarks drew rebuke from congressional Democrats, who say the debt limit should not be a political bargaining chip.
Increasingly we're going to undermine the confidence in the United States by continuing this game on the debt limit, said Minority Whip Steny Hoyer of Maryland, the No. 2 House Democrat, according to The Hill. We've incurred the debts; we need to pay the debts.
During the last debt ceiling struggle, the standoff was resolved by create a bipartisan supercommittee to come up with $1.2 trillion in savings from spending cuts and revenue increases. The fail-safe was that across-the-board spending cuts, including the defense budget, would be triggered should the supercommittee fail to meet a consensus, which is what happened.
Despite avoiding a default on the U.S.'s bills, the political fighting and gridlock caused Moody's to downgrade the country's gold-plated credit rating.
© Copyright IBTimes 2022. All rights reserved.
FOLLOW MORE IBT NEWS ON THE BELOW CHANNELS