Defeating ISIS Will Take A Regional Anti-ISIS Coalition, But No U.S. Strategy On Syria Yet: Obama Said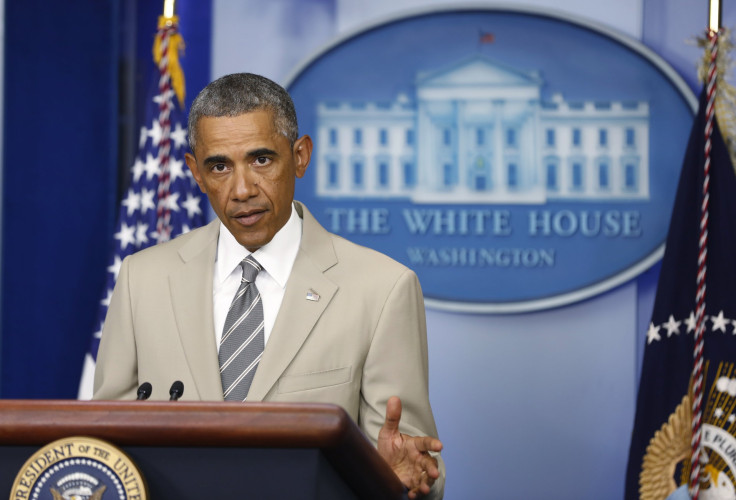 The U.S. administration "does not have a strategy" to deal with the Islamic State in Syria yet, but President Barack Obama said Thursday he will "consult Congress" before making any decisions. Defeating the extremists will take a "regional strategy" with other Mideast nations, he stressed in a White House news conference.
Direct U.S. intervention in Syria against the Islamic State, also known as ISIS or ISIL, runs the risk of strengthening President Bashar Assad, whom the U.S. has long denounced as a tyrant.
Intervention in Syria is "not a situation where we have to choose between Assad and ISIL," the president said. The two forces control different areas of the country. The real problem, Obama said, is finding a suitable alternative to both ISIS and Assad in that can unite the country.
"I don't see how Assad can bring peace or stability to area that is majority Sunni," Obama said.
His current priority, Obama said, is to "protect American personnel on the ground" in Iraq. Earlier this month, he authorized airstrikes targeting ISIS forces in Iraq. Iraqi and Kurdish forces in the area have made some progress in pushing back ISIS militants, but a success is still dependent on an inclusive Iraqi government, Obama said.
The president's comment that "we don't have a strategy" for combatting ISIS drew immediate attention from U.S. critics, and the White House quickly tweeted a clarification of the remark, saying that it referred to any planned military tactic and did not mean that the Obama administration was not addressing the ISIS crisis in a proactive manner.
© Copyright IBTimes 2022. All rights reserved.
FOLLOW MORE IBT NEWS ON THE BELOW CHANNELS