Defense Spending Update: Senate Authorizes Defense Bill Under Threat Of Obama Veto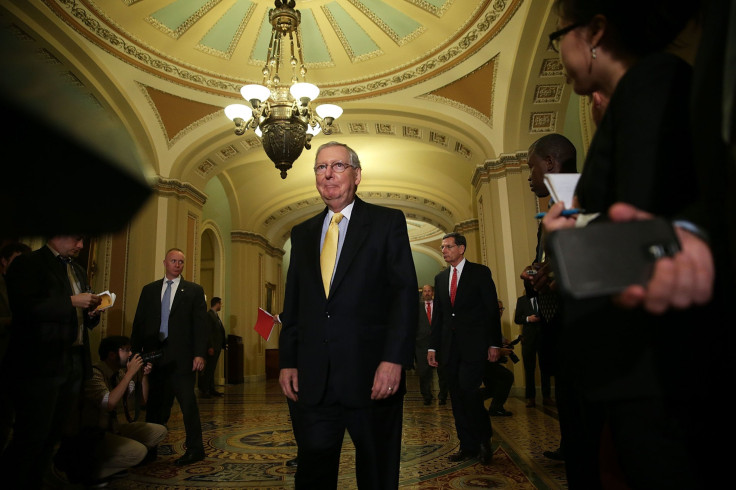 The Republican-led Senate voted 73 to 26 to move forward on the National Defense Authorization Act conference report Tuesday, but President Barack Obama's threat of a veto is likely to complicate the bill's path. The Obama administration and Senate Democratic leadership oppose the bill's inclusion of an extra $38 billion in Overseas Contingency Operations funds, which they say is being used to get around congressionally mandated budget caps.
After nearly an hour of discussion from both Democrats and Republicans Tuesday, the Senate got more than the 60 votes it needed for the bill to advance. When the Senate passed its version of the NDAA earlier this year, the vote count was 71 to 25, which is enough support to prevent a filibuster and override the president's veto.
Overseas Contingency Operation funds are supposed to be used for incremental war spending, but opponents of the NDAA's conference report say that the money is used as a short-term measure to avoid a discussion about increasing budget caps. Proponents of the NDAA, on the other hand, say that this funding authorization is particularly important at a time when American troops need help fighting forces such as the Islamic State group and the Taliban overseas.
"If the president vetoes the NDAA, at this time of mounting global threats, he will be prioritizing politics and process over the security of our nation and the well-being of our armed forces," Arizona Sen. John McCain, chairman of the Senate Armed Services Committee, told The Hill Sunday.
The House of Representatives passed the bill last week with a vote of 269 to 151, a margin not large enough to override the president's veto. The annual NDAA is a bill that typically receives bipartisan support, and Senate Majority Leader Mitch McConnell, R-Ky., said Monday that Obama was pushing Senate Democrats to vote against the bill's conference report.
"The Obama administration is goading Democrats into opposing the very legislation that sets out defense policy and authorizes funds for our military," he said, according to The Hill.
While the Republicans were able to get enough votes for the bill to advance, one notable senator was missing: presidential hopeful Marco Rubio, R-Fla. Rubio missed the vote to continue campaigning in New Hampshire, according to CNN. The senator has the worst voting attendance record in the Senate for 2015, an issue that Democrats and his opponent Donald Trump have already criticized him for during the campaign.
Obama's veto threat is familiar to Senate Republicans -- the president has said he would veto every defense bill over the last six years, but he has never done so. However, his administration said this time he would follow through.
© Copyright IBTimes 2023. All rights reserved.