Defiant US Navy Sends Another Warship Through Taiwan Strait As China Holds Massive Military Drills
KEY POINTS
The transit comes barely a month after China claimed rights over the strait
Taiwan said the vessel sailed from south to north through the strait
The presence of U.S. vessels had provoked China to hold a massive drill
Undeterred by Chinese protests over the presence of a U.S. warship near the disputed Spratlys and Paracel islands, the Navy sent a destroyer via the Taiwan Strait Tuesday. The vessel's transit comes barely a month after China claimed rights over the Strait.
Arleigh Burke-class destroyer USS Benfold conducted a routine Taiwan Strait transit Tuesday, the U.S. 7th Fleet said in a statement. The transit was conducted "through a corridor in the Strait that is beyond the territorial sea of any coastal state and was in accordance with international law," the statement added.
The sailing of the USS Benfold was confirmed by the Taiwanese Defense Ministry, which said the vessel "sailed from south to north through the Taiwan Strait." It described the situation as "normal." China recently tried to exert its monopoly over the disputed waters of the South China Sea by stating that there is no such thing as "international waters" over Taiwan Strait.
The guided-missile destroyer was also spotted sailing near the Paracel Island and then the Spratly Islands last week in Freedom of Navigation Operation (FONOPs). China had labeled the U.S. FONOPs "trespasses."
The back-to-back transits have angered China, which had called the U.S. naval activities "an escalated provocation." An article in the Chinese state media, quoting analysts, had warned the U.S. of "an unwanted conflict."
"The simultaneous U.S. naval activities in different parts of the South China Sea are an escalated provocation from the U.S. in the region that is now becoming routine and which risks an unwanted conflict," Song Zhongping, a Chinese military expert, was quoted by Global Times, after Benfold sailed near the Paracels.
Beijing also made its displeasure toward the presence of U.S. Navy vessels known by holding a massive drill in the area. The People's Liberation Army's (PLA) military exercise, in a large area overlapping the Paracel archipelago, began Sunday and ended Wednesday, according to Radio Free Asia.
The drills covered an area of approximately 100,000 square kilometers east of Hainan island, some 350 kilometers from Vietnam's port city of Danang.
The report added that the war games also coincide with the entrance of the U.S. aircraft carrier USS Ronald Reagan into the South China Sea. The carrier strike group sailed into the disputed waters last Wednesday on its first deployment this year. The U.S. Navy's only forward-deployed aircraft carrier has reportedly been operating around the Spratly Islands along with USS Benfold.
The U.S. 7th Fleet released a statement last week saying the "carrier operations in the South China Sea are part of the U.S. Navy's routine operations in the Indo-Pacific."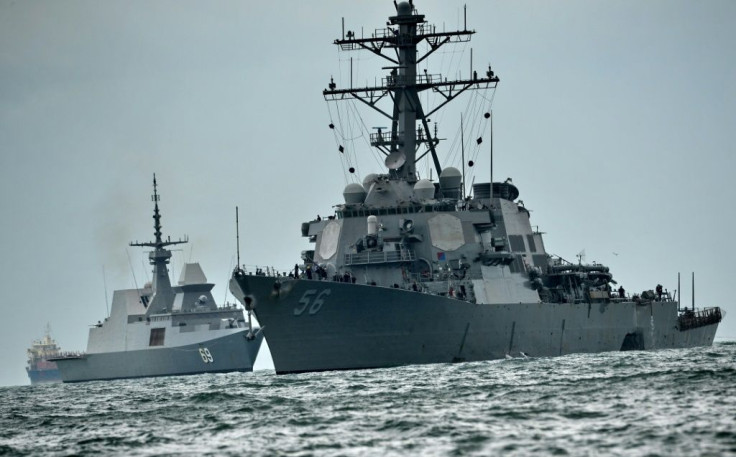 © Copyright IBTimes 2023. All rights reserved.