Delhi Gang-Rape: Protests Continue As Victim Remains In Critical Condition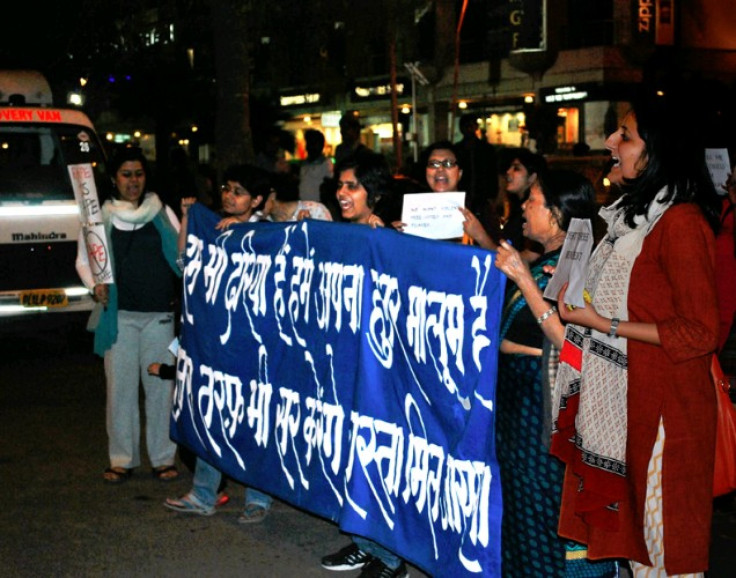 In the wake of a gang-rape of a woman in Delhi which has sparked protests and outrage across India, a senior police official has been condemned by activists for proposing that females can avoid sexual assault by not going out at night, or by throwing chili powder to foil would-be rapists.
Commissioner KP Raghuvanshi, chief of police in Thane, a city near Mumbai, made the comments as politicians and women's rights campaigners demand the death penalty for convicted rapists.
"This is just a sexist sort of solution," said Ranjana Kumari, director of the Centre for Social Research in Delhi, according to the Guardian newspaper.
"They want women to stay at home. And how is chili powder going to help against six or seven men?"
Another protester, a Delhi student named Kajol Batra, called Raghuvanshi's remarks "idiotic".
"We should not be scared of going out and we shouldn't have to protect ourselves with cooking ingredients," she said.
On Sunday night, a 23-year-old female medical student was raped by at least four men in a private bus moving through Delhi. She and a male companion were beaten, tortured and thrown out naked onto the street. While police have made a number of arrests in the case, including the bus driver, protests continue to swirl unabated – with anger focused not only on rapists, but also on the police, the slow court system and on India's attitude towards women.
Delhi has the dubious title of India's "rape capital" – hundreds, perhaps thousands, of women are raped in the city annually, while very few attackers are ever convicted, much less even prosecuted. Many rapes are not even reported over fears of the resultant stigma on the victim and her family.
"Convicted attackers [should] not get jobs, or be able to rent homes, or buy property. The social ostracism would be a very big deterrent," Kumari added.
Indian sociologists theorize that rapes have escalated in recent years because more women have joined the workforce and travel on public transport, making them easy, visible targets for resentful and chauvinistic men.
"Delhi's buses have always been unsafe and while each time it may not be a case of rape, there's always some kind of sexual harassment -- nudging, leaning, rubbing, pinching, blatantly groping, crude sexual language and the like," Kopal, a student at Jawaharlal Nehru University, told Indian media.
"In situations of sexual harassment, one can't help but notice the distinct divide in men and women. The men will always support the man accused of misbehaving."
Meanwhile, the rape victim remains in critical condition in a Delhi hospital. Indian television stations are camped out nearby, providing frequent updates on her condition.
"She continues to remain in ICU on life support, her vital parameters like blood pressure, urine output, respiratory rate were within acceptable limits," Dr. B. D. Athani, Medical Superintendent of Delhi's Safdarjung Hospital, told Indian media.
"She is making an attempt to breathe on her own and we are about to start to give her Total Parenteral Nutrition, meaning providing nutrition through intravenous route, as she won't be able to take her feed from her mouth because of the intestinal loss."
Dr. Athani added "she had been stable and remained almost alert and withstood to, apart from assault, the all exploratory interventions. She is a brave girl and withstanding right from the day of assault till today everything. She is conscious but not able to speak as there is a tube inside for ventilation as she is on ventilator. She is able to communicate with gestures. We are not disturbing her again and again to communicate and we know that she is alert."
© Copyright IBTimes 2023. All rights reserved.