Deputy Darren Goforth Shooting: Obama Makes Condolence Call To Slain Texas Deputy's Widow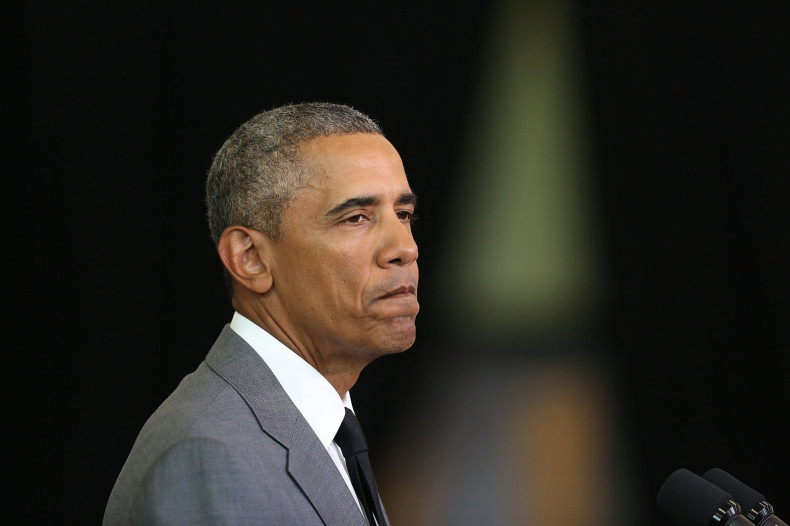 President Barack Obama expressed condolences Monday to Kathleen Goforth, the widow of Darren Goforth, the Texas deputy sheriff who was fatally shot on Friday. The president promised in a telephone call to continue to highlight "the uncommon bravery that police officers show in our communities every single day."
"Targeting police officers is completely unacceptable -- an affront to civilized society," Obama said in a statement. "As I said in my State of the Union address, we've got to be able to put ourselves in the shoes of the wife who won't rest until the police officer she married walks through the door at the end of his shift. That comfort has been taken from Mrs. Goforth. So we must offer her our comfort -- and continue to stand up for the safety of police officers wherever they serve."
Goforth was gunned down Friday evening in Houston while gassing up his cruiser. He was shot 15 times, and investigators have said they do not know what motivated the gunman, who was found incompetent to stand trial Monday. The suspect, Shannon J. Miles, has been charged with capital murder.
"Our assumption is he was a target because he wore a uniform," said Sheriff Ron Hickman, NBC News reported.
Chuck Canterbury, national president of the Fraternal Order of Police, said 23 police officers have been killed by gunfire this year, and three were targeted because they were officers, CNN reported. That number is a significant increase from 2014 when nine officers were ambushed and killed.
"In the last few years, ambush attacks aimed to kill or injure law enforcement officers have risen dramatically," Canterbury said. "Our officers deserve this same level of protection" as other designated groups covered by the hate crime law.
Goforth, 47, was a 10-year veteran of the Harris County Sheriff's Office. He is survived by his wife and two children.
More than 1,000 people showed up Sunday for a walk in support of law enforcement, and $150,000 in donations were made for Goforth's family.
© Copyright IBTimes 2022. All rights reserved.